Read this: BlackRapid RS-7 camera strap review by local photographer Ett Venter. "You won't even notice that it's there."
Review and photos by Ett Venter, a Pretoria-based photographer.
This review is going to be a tad different than what you might be used to, in that I wasn't sent this strap to review. I've had this strap for ages, and I've probably done 600 hours of shooting with this thing around my neck, so this will be my review based on real-world experience. I was, however, sent the Joey J2, the Brad, and the Bert for review by the South African BlackRapid distributor.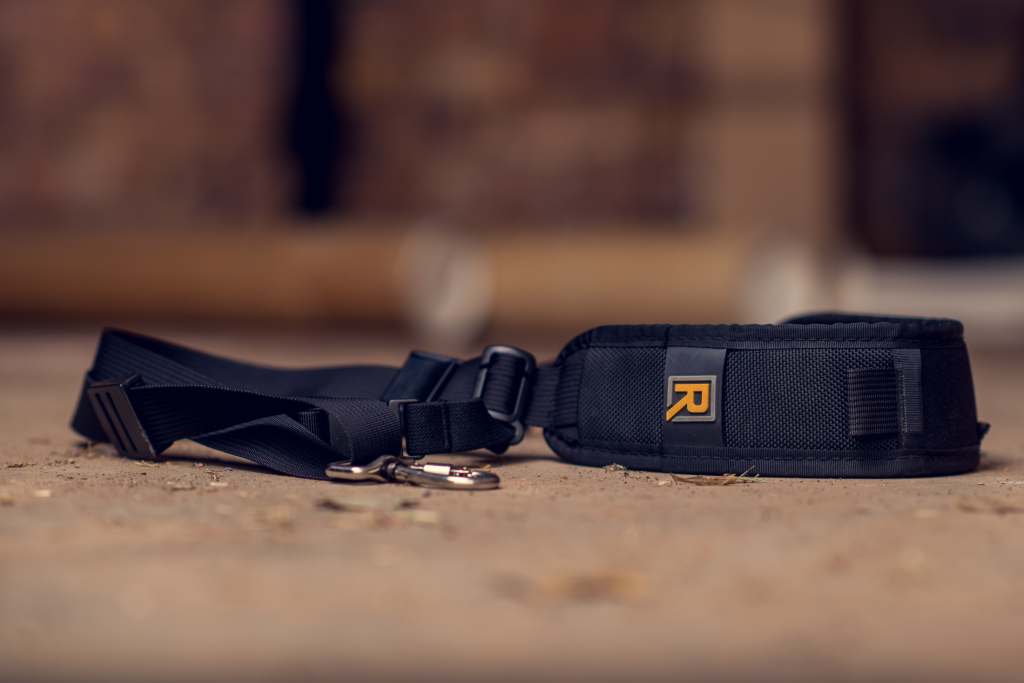 Let's start with the BlackRapid RS-7 camera strap.
The first thing we need to address is why you'd actually want a strap besides the one your camera shipped with, right? Why would you spend a few hundred rand on a strap? Well, because the one your camera came with is about as comfortable as walking at the zoo all day with a stone in your shoe, and that metaphorical stone gets progressively larger as the lens on your camera body get bigger. My go-to setup for portraits is a gripped Nikon D800 paired up with Nikon's 85mm f/1.4G lens, a trigger in the hotshoe, and a Lee filter system on the front. Carrying that around your neck would not be pleasant.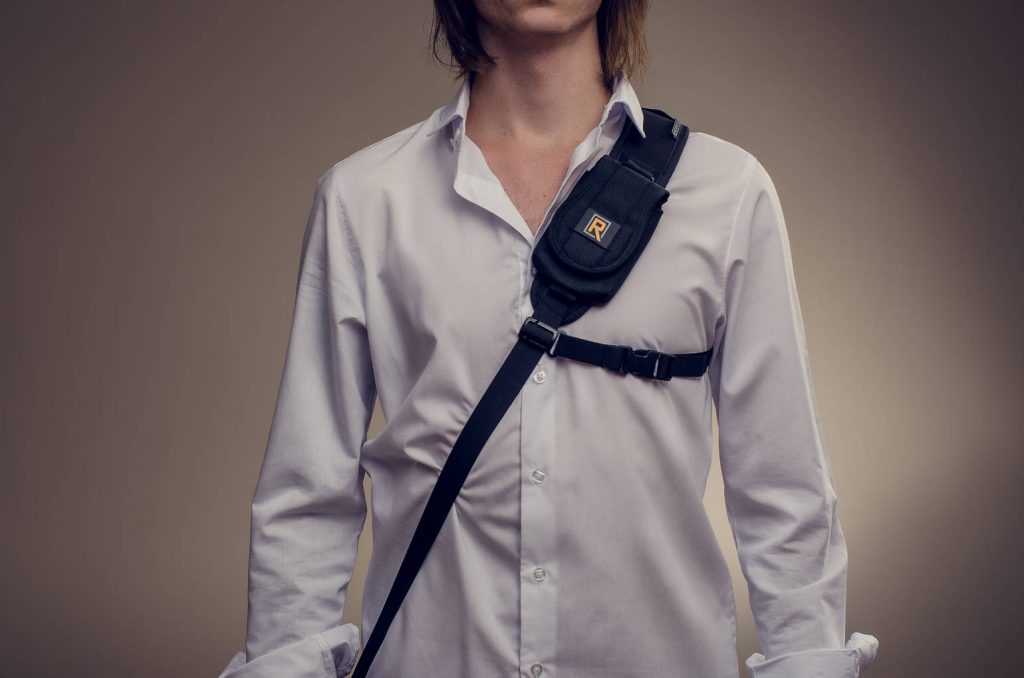 The BlackRapid aims to get the camera out of the way, and to do so securely and comfortability. The RS-7 is made from flexible ballistic nylon, and has a thick foam padded bit for your shoulder, so it's incredibly comfortable. To be totally honest with you – once you put this thing on, you won't even notice that it's there, even with the camera listed above, which weighs a good 2.5 kg. I've used this strap in my travels as well, where I've just had the D800 & 85mm or 50mm on the strap, and walked around like that for entire days without it getting uncomfortable. This padded section also has a bit of a curve to it, so it fits your shoulder like a glove.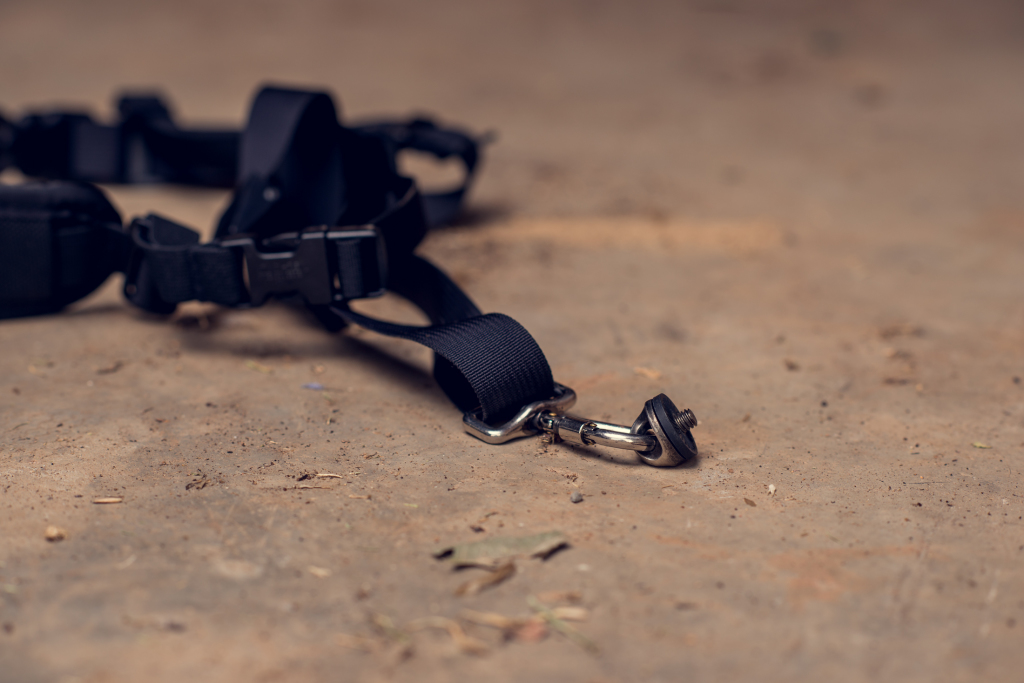 The idea is to have the camera hang upside down at your hip, and it's held to the strap with a loop (called the "FastenR") that screws into your camera's tripod mount. Now I know what you're thinking – "What if that loop unscrews itself?". Yeah, I had that thought before buying my RS-7 as well. Throughout my experience with the BlackRapid, I've not once had to tighten the FastenR after I had screwed it in. Once it's in there, it's not going anywhere. The strap itself has a clasp called the "ConnectR", which hooks on to the FastenR. What's really great about the ConnectR is that it can swivel; so the camera can spin around while you walk, but it'll never actually unscrew the FastenR from the camera body. You can also use the ConnectR as leverage when screwing the FastenR into your camera body. This will make sure you get the FastenR screwed in nice and tight. Once the FastenR is connected to the ConnectR, you can screw the ConnectR closed, leaving literally no way for it to detach without you unscrewing it. I personally don't even go this far, as I found the clasp alone to be secure enough.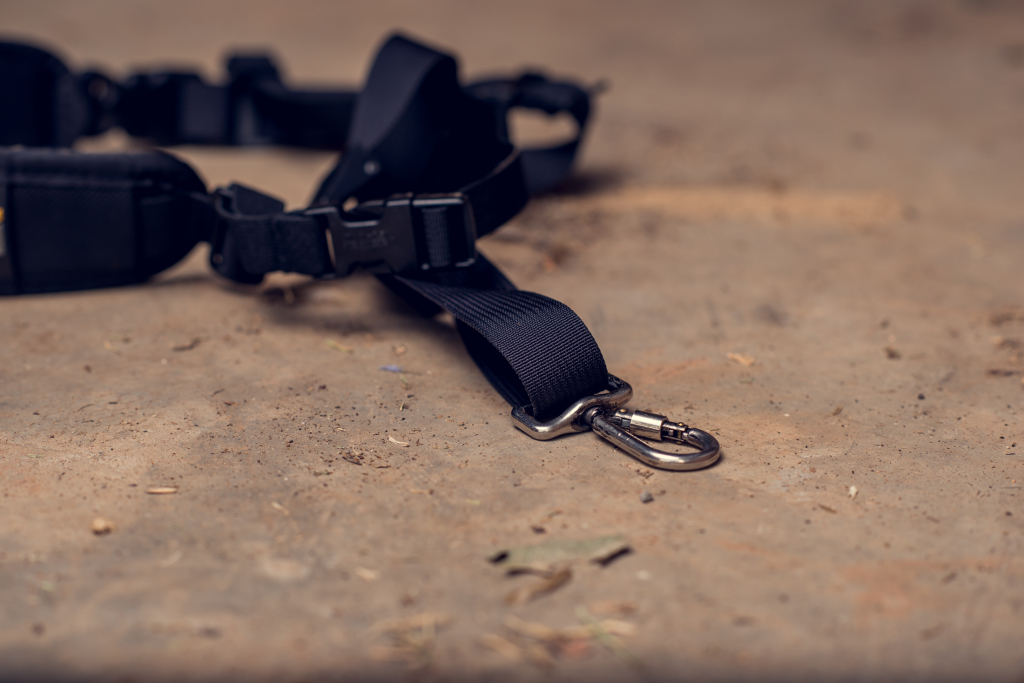 Having the camera hang freely on your side is only great until you have to bend over to grab something out of your camera bag. So the RS-7 actually has what they call "bumpers" on the strap, which are essentially just clamps that you can use to control how much movement the camera has one the strap. You have one bumper for either side of the ConnectR. This way, you can force the camera to stay put at any place you choose on the strap. I personally find this great when I'm moving around and don't want my camera swinging around my body like a swing ball. You need to be disciplined about these bumpers though. If you don't use them, your camera is going to bump against cupboards, doors, and anything it can while you walk. I've knocked my camera far too many times because of not using the bumper.
As I mentioned before, wearing the strap is really comfortable. Your right arm and head go through the strap, and the padded part of the strap rests on your left shoulder, with your camera down at your right hip.
I also find that this strap excels in its durability. As mentioned before, my straps works really, really hard. Even after all the shooting I've done this strap is still rock-solid. I can see some signs of wear, of course, but not the kind of signs that have me thinking that I'd be risking my gear by using the strap.
This particular strap, the RS-7, is BlackRapid's best selling strap, and I can absolutely see why. If all my gear got stolen tomorrow, this strap would be the first thing I buy after a camera body and a lens.
The BlackRapid RS-7, as well as other BlackRapid straps, is available online on Orms Direct and in-store at Orms Cape Town and Orms Bellville.
Moving on to the new BlackRapid accessories, The Brad, The Joey and The Bert mods:
The Brad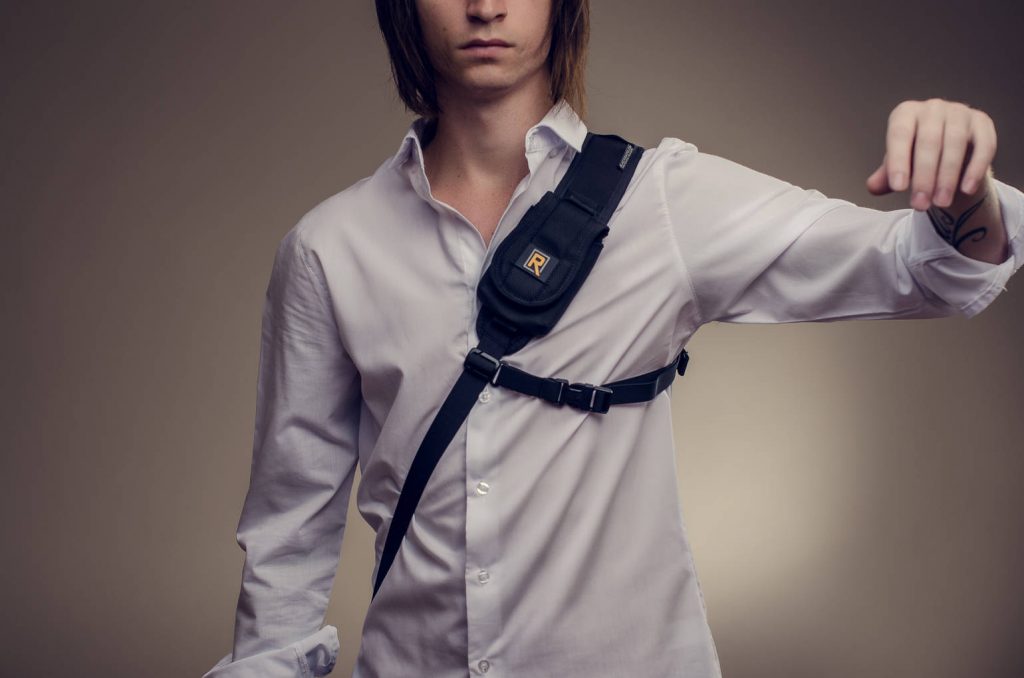 The Brad is an interesting accessory, and one I've started to feel is quite necessary, actually. I've used this accessory at two weddings I've shot, so I've got about 24 hours of real-world experience with it. I want one, that's for sure.
It's a second strap that you run under your arm, which connects to the front and back of your existing BlackRapid strap. This essentially secures the BlackRapid in place completely, leaving no room for the strap to slip off the front or back of your shoulder.
When using the Brad, it honestly feels like the strap couldn't possibly slip off my shoulder in any direction, which is a form of security I didn't have before. There have been times in the past where the RS-7 would slip off the side of my shoulder while I'm shooting on my haunches, and that definitely hasn't happened since using The Brad.
The Brad has a clip close to the front that you need to unclip in order to get the strap on or off, but's it's easy to get to. It's also got a lot of excess strap that you can use to make it really long if you're any larger than the skinny guy I am.
It took a bit of getting used to, and I've found that finding the right length for the brad to be crucial. The very first time I used it, it actually stopped me from using my camera in portrait orientation when I was on my haunches, which was incredibly annoying. I lengthened it, though, and once I found the right length, it was perfect.
The Joey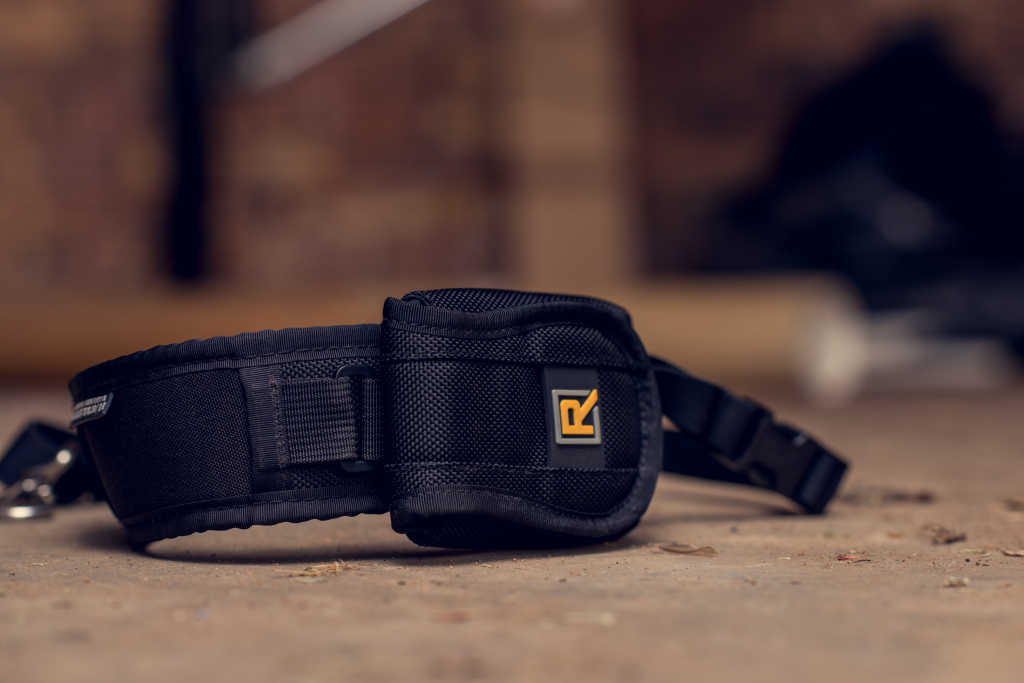 The Joey J-2 pouch is another mod for the BlackRapid system. The BlackRapid straps are made ready to support these pouches, which makes the installation of them incredibly simple. The BlackRapid strap slips right through the Joey, and the Joey is secured in place with a small hook that hooks into a loop that's on the strap.
The Joey J-2 is made for a phone, iPod, or even something like a spare battery or a memory card.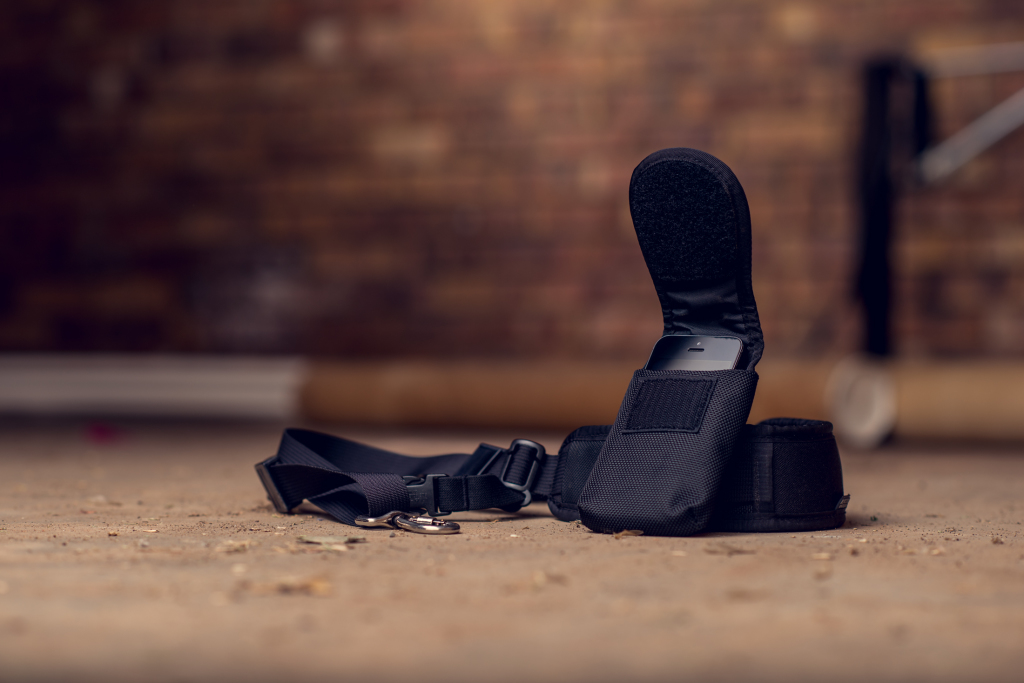 The pouch is built really nicely, and my phone fits perfectly. It's also padded, so it'll protect its contents if you bumped into something.
I've got some gripes with this mod, though. I'll immediately tell you that putting your phone or an iPod into the Joey and using that while you're shooting all day will drive you nuts. It makes the strap so heavy that it slips off your shoulder. Even with the Brad in place, you can constantly feel the weight of the pouch if your camera isn't weighing everything down nicely. This destroys that "I can't even notice my strap" feeling that the BlackRapid RS-7 strap gives me. I tried to use the Joey at both of the aforementioned weddings, and I took it off within an hour of shooting at both.
So using this at that sort of shoot is a bad idea. I would, however, love to have one of these next time I travel. When travelling, your camera will be hanging at your waist a lot more than when you're shooting something like a wedding, so the weight of the camera will balance everything out nicely, and I think that in that sort of situation, the Joey would be fantastic.
The Joey pouches come in 3 different sizes. There's the Joey J-1, J-2, and J-3.
The Joey J-1 is quite a small one, and probably just enough for a battery or a couple of memory cards. The J-2, is the one I've got here, described above. The J-3 is a big one, and you'd fit a whole host of things in there. The J-1 and J-2 close with a flap, whereas the J-3 closes with a zip.
The Bert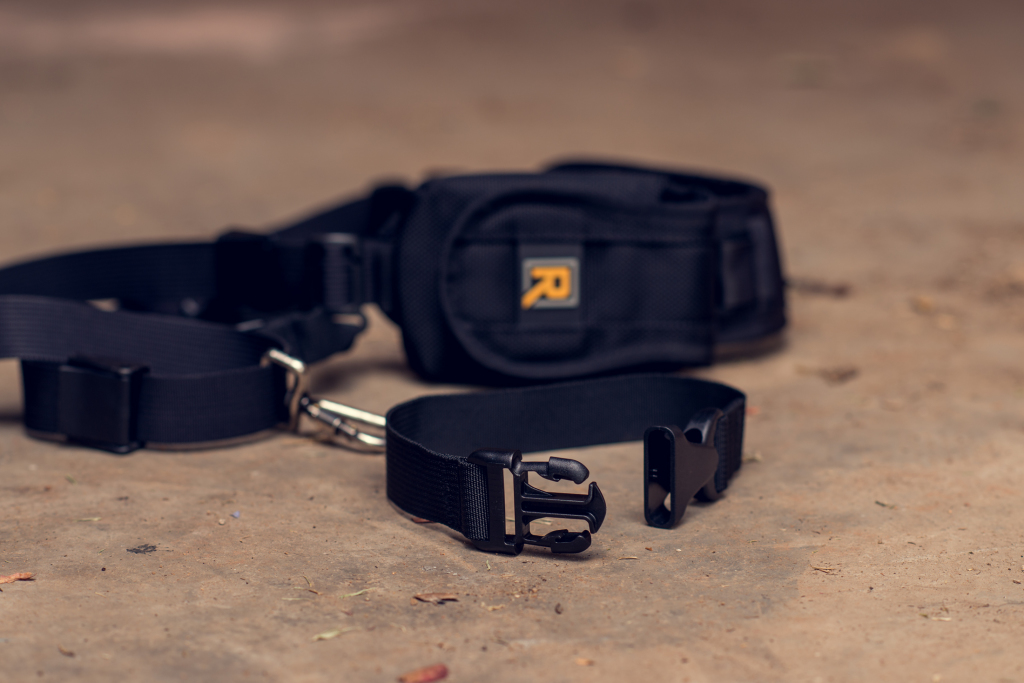 The final accessory I want to go over in this review is The Bert. This is simply an extender for your strap. So if you're a tower of a human, or if you're not a particularly small person like I am, then the Bert is right up your alley. It just clips into the existing clips on the BlackRapid strap to make it a bit longer.
The Brad, Joey and Bert mods are available online on Orms Direct, and are available to order in-store at Orms Cape Town and Orms Bellville.
Review written by Ett Venter. Ett is a young, dynamic photographer from Pretoria who specialises in wedding and portraiture photography. His style is quite unique and he makes use of a number of different techniques to get the distinctive feel he creates. He has written for PC Format and NAG in the past but has now switched his focus to photography.