Our resident camera repairs specialist Chris Hart offered a free camera cleaning service at the recent Absa Cape Epic.
Chris Hart, our in-house camera repairs expert, offered a free camera cleaning service at the recent Absa Cape Epic. The brutal race is known for taking its toll on the athletes and their equipment, and it also tests even the best professional photographic gear – and not to mention the photographers!
Here's what Chris had to report from the experience:
"Dusty cameras, you have no idea! This year's Cape Epic was truly epic. The cameras used on the event are exposed to some of the harshest conditions around and it was up to us to keep them all going strong throughout the event.

We were cleaning between 10 to 20 cameras and lenses per day, trying to keep up with the photogs as they moved with the wave of riders through the mountains. The cameras were hardly recognisable when I got to them, covered completely in fine brown dust and grit.

It was hard work, but very enjoyable and I had a super time on the Epic. The photographers claimed it was truly life saving that we were there, allowing them to have freedom while shooting, knowing their gear was in good hands."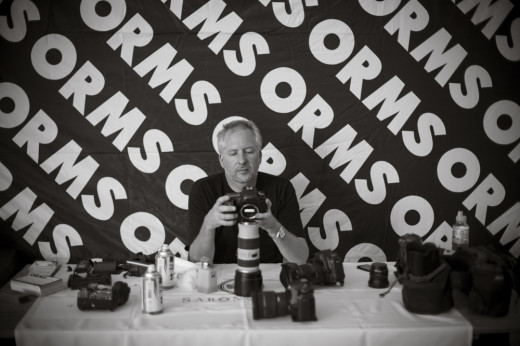 Photographs by Nick Muzik.
We were also updated during the race via Twitter:
@ormsdirect Chris hard at work @absacapeepic cleaning our #Canon camera gear twitter.com/beadle_photo/s…

— Beadle Photo (@beadle_photo) March 20, 2013
This is my baby; this is what the #AbsaCapeEpic2013 can do to you: broken body-glad to have the dr from @ormsdirect twitter.com/niccibphoto/st…

— Nicci B (@niccibphoto) March 20, 2013
Chris Hart doing an amazing job removing the daily dust! at the @ormsdirect service area for the @absacapeepic media. twitter.com/retroyspective…

— Troy Davies (@retroyspective) March 22, 2013
So if you ever have any problems with your camera equipment, or you need a routine cleaning, visit our Orms Repairs department, where Chris, Jenine and Nick will offer you the best advice and service in the industry.