View Frederick van Heerden's wildlife photo, Running For Life, which has been shortlisted for a Sony World Photography Award.
South African photographer Frederick van Heerden's Running For Life photo has been shortlisted for a Sony World Photography Award in the Nature & Wildlife category.
Running For Life has been included in the top 10 in its category, which is massively impressive considering that this year's Open Competition saw over 46,000 entries from 160 countries. The winning images will be announced on the 19th of March.
Click on the photo below to view it larger: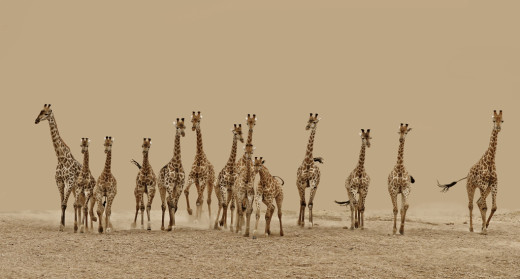 Frederick describes shooting this incredible photo:
"I took the shot in the riverbed of the Letaba river. The giraffes were crossing the shallow end of the river in the Kruger National Park towards the opposite side of where I was sitting in my vehicle. They already seemed nervous, but then they spotted six lions in hunting mode – these same lions were in a confrontation with a herd of buffalo earlier in the day. The giraffes immediately started running away from the lions, directly towards me… Luckily, I was ready with my faithful Canon 300mm f/2.8 (purchased from Stephen at Orms) set to f/8 and Servo AF, and fired away… Adrenalin was pumping through my whole body… Wow, what an exciting and memorable wildlife experience!"
Mike Ormrod added that he thinks "the picture is fantastic" and sends his congratulations to Frederick.
Visit the WPO website to view the rest of the finalists in the Open Competition and the Professional Competition.