Meet the new Leica SL, will this full-frame 24MP camera take the mirrorless world by storm?
Leica has revealed the all new Leica SL, last night. An entirely new full-frame mirrorless camera with interchangeable lenses. It's fast, Leica is calling it "the fastest autofocus on the market," as it lets you shoot at up to 11 frames per second at its full 24-megapixel resolution and save them to the dual SD memory card slots in both 8-bit JPEG and 14-bit RAW DNG simultaneously.
They also state that the new SL "is the world's first camera conceived for professional photography to feature an electronic viewfinder". In addition to that, the revolutionary EyeRes viewfinder shows the finished picture – even before pressing the shutter release. The size is reminiscent of medium-format cameras and decisive parameters – such as exposure, depth of focus, and white balance – are simulated in the viewfinder. Their precise effects can be optimally assessed. At the same time, in contrast to SLR cameras, the Leica SL is almost completely silent.
There's no word on local availability and pricing yet, but here's a quick rundown of the specifications and a look at the beautiful hardware design.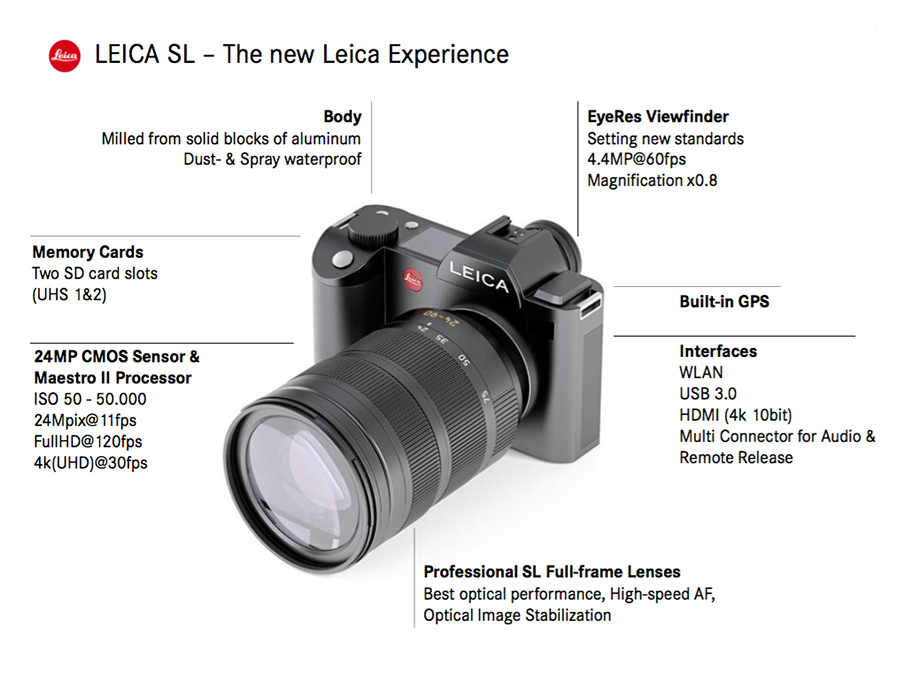 LEICA SL. Features at a glance
Largest, fastest and highest resolution EVF (4.4-MP@60fps / x0,8 magnification)
Fastest frame rate: 11fps@24MP, 1080p@120fps, 4k(UHD)@30fps
Fastest AF in Full frame system cameras
24-MP CMOS sensor: ISO 50 – 50.000 for highest performance under every light condition
Best in class image quality with all supported Leica lenses (SL, S, R, M, T, Cine)
Fastest SD standard (UHS2)
Best video quality: HDMI out (4k10bit 4:2:2)
Dust– & spray water proof system
Shutter speed from 30min (bulb) – 1/8.000s (mechanical) – X-Sync: 1/250s
Ultrasonic sensor cleaning
Latest generation of Leica Professional user interface with hybrid touch operation
Integrated Wlan and GPS module
State-of-the-art connectivity: Remote Control, Viewer & Sharing App for iOS and Android
Made in Germany