Twinterest is a brilliant photography mash-up Pinterest board by Lianne Burton. We caught up with her to chat about the board and more.
Twinterest is a great Pinterest board created by Cape Town-based trend tracker and communications strategist Lianne Burton. The hobby-curation project, which involves cleverly matching up two unrelated photos, caught our eye a few weeks ago, and we met up with her to ask her a few questions.
Who is Lianne Burton?
An eternal optimist with an over-developed sense of possibility.
Please give us a summary on what you have done in the past until now?
I've edited lifestyle magazines like Elle Decoration and House & Leisure, headed up Destination Marketing for Cape Town Tourism over the 2010 World Cup, and now work as an independent communications strategist for clients like the Cape Town Partnership, The Safety Lab and the Cape Craft and Design Institute. I am also the facilitator of Design Dialogues, a networking and knowledge-sharing initiative of the Cape Town Design Network and Creative Cape Town, in association with Woolworths.
You are very active on social media especially Pinterest. Why do you feel this is important?
I started using Pinterest just for fun – I felt a need to balance my left brain-intensive, predominantly words-based strategy work with more of a visual outlet. In the process I was reminded of how much I love to 'curate' images, and of how powerful pictures are. Pinterest is also a great platform for tracking trends. I use it more and more as a resource for understanding global popular culture and for widening my aesthetic horizons. It has come as a surprise to me that my own Pinterest boards have garnered so much attention.
You started a Twinterest board on Pinterest that caught a lot of attention in the media – how did you get the idea to start this?
I tend to notice connections between things; it's something that has always come naturally to me. Launching a Pinterest board called 'Twinterest' happened quite spontaneously, as a way for me to explore my 'pattern recognition' tendencies.
Please share 3 of your favourite Twinterest posts and tell us why they are your favourites?
I only have 100 pins on my Twinterest board so they are all pretty much my favourites. It takes ages to try and track down the correct credits for the pinned images used and I don't always succeed – this is an area where Pinterest can really be improved on.
Here are three of my most popular pins on Twinterest: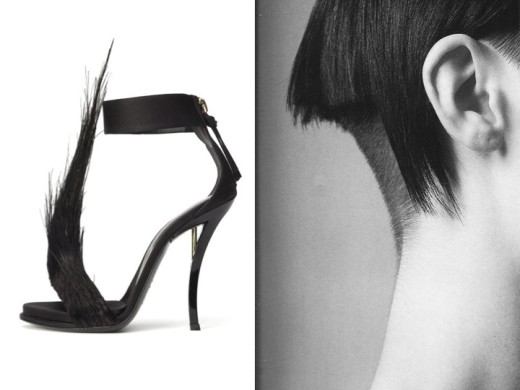 'A Cut Above' on Twinterest… [TwinCredits: Christian Louboutin shoe + graphic hair on morbidfashion.tumblr.com/post/53025165672 ]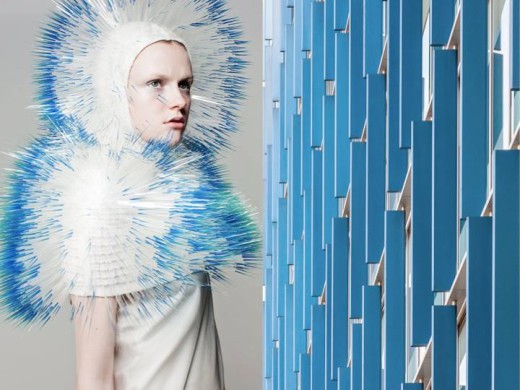 'Alter Egos' on Twinterest… [TwinCredits: Maiko Takeda's 'Atmospheric Reentry' collection + the Blue Fin Building by Allies and Morrison, London.]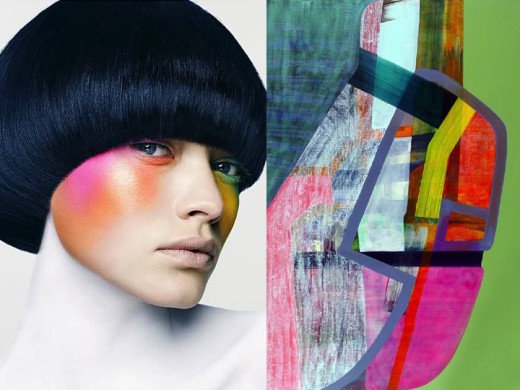 'Nick Lamia inspired my makeup' on Twinterest… [Twincredits: Max Cardelli beauty + Nick Lamia painting, untitled, oil on canvas, 2008]
What are you busy with at the moment?
I have a jam-packed consulting schedule and I'm trying to balance that with spending quality time with loved ones.
Any other interesting projects lined up?
Yes. I'll be working on communications for The Business of Design — a groundbreaking new initiative jointly conceived by the 100% Design South Africa team of Laurence Brick and Cathy O'Clery, and the GUILD and Southern Guild team of Trevyn and Julian McGowan — among other projects.
Could you share some tips for the uninspired creative out there?
Connect and collaborate. Seek out new challenges. Join new networks. Get involved in things that are bigger than you. Inspiration is everywhere…except in a rut.
Here are a few more of Lianne's brilliant Twinterest mash-ups: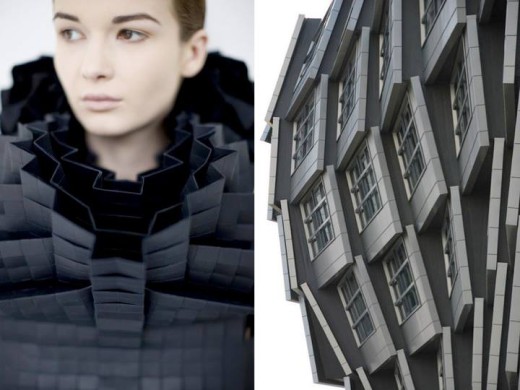 'I Am The City' on Twinterest… [TwinCredits: Fashion image Morana Kranjec + The Wave, architecture, Netherlands, by Erik van Roekel.]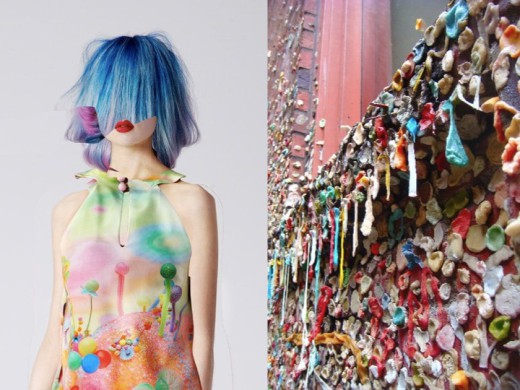 'Bubblegum hues' on Twinterest. [Twincredits: Fashion look from Romance Was Born SS 2014 + Wall of Gum in Seattle.]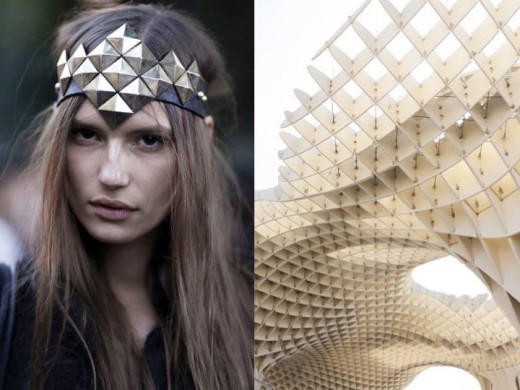 'Sweet Urbanista' on Twinterest… [TwinCredits: Fashion image via www.vogue.es/… + architecture Metropol Parasol, Sevilla, Spain, via www.architizer.com ]
Please note: All images retain the rights of their respective owners. All images featured are Pinterest repins that are also featured on Lianne Burton's Twinterest board. Twinterest is merely a creative hobby, and does not have a commercial aspect, nor does this blog post. Please contact us if you are the owner of any works and would like to have it removed.