The long awaited Canon EF 200-400mm f/4L IS USM Extender 1.4x has been announced and is now available for pre-order!
Canon's long awaited EF 200-400mm f/4L IS USM Extender 1.4x telephoto lens was finally made official yesterday, with availability announced for June later this year.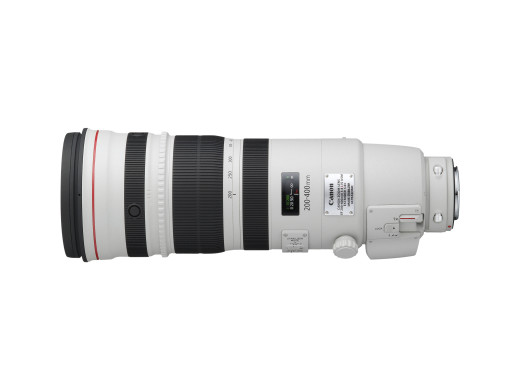 As the full name of the lens suggests, it includes a 1.4x Extender built into the rear of the lens, allowing you to extend the focal length to 280-560mm f/5.6 at the flick of a switch.
Other standout features include a constant f/4 aperture throughout the zoom range, three modes of optical Image Stabiliser which compensates up to four stops, a power focus mode for smooth focus pulling, and fluorite and ultra-low dispersion lens elements for sharper images. For more information, view the press release below.
Pre-Order and Availability
The Canon 200-400mm is now available on Orms Direct for pre-order. Please visit Orms Direct for the latest pricing and availability information.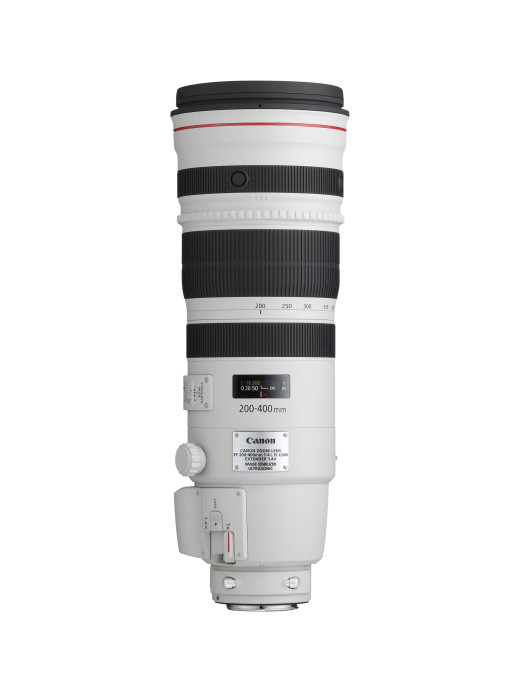 Press Release
London, UK, 14 May 2013 – Canon today adds a new category to its range of high-performance super-telephoto lenses, with the introduction of the EF 200-400mm f/4L IS USM Extender 1.4x to Canon's acclaimed L-series. The EF 200-400mm f/4L IS USM Extender 1.4x features a flexible 200-400mm focal range with a fixed f/4 aperture, 4-stop optical Image Stabilizer and for the first time in a commercially available lens, a built-in 1.4x extender. These features combine to provide an outstandingly versatile lens for professional sports or wildlife photographers. A robust magnesium alloy design, environmental protection and specialised lens coatings also make it ideal for mobile use, combining with the finest quality optics to deliver exceptional results, even in the harshest conditions.
Get closer to the action with superior image quality
The reach of the EF 200-400mm f/4L IS USM Extender 1.4x is boosted by its internal 1.4x extender, which is engaged or disengaged at the flick of a lever to provide an extended focal length of 280mm to 560mm – allowing photographers to get even closer to distant action. Ensuring the highest image performance, the optical design includes both fluorite and Ultra-low Dispersion (UD) lens elements, which help minimise chromatic aberration and eliminate colour blurring. Advanced anti-reflection SubWavelength Structure Coating (SWC) and Super Spectra Coating also reduce ghosting and flare. Thanks to the use of the latest optical technologies, image performance is unaffected when the integrated extender is used.
With a fixed f/4¹ aperture the use of high shutter speeds to capture fast-paced action or a low-light scene is possible. A newly designed optical Image Stabilizer, which provides users with a four stop advantage, while IS 'Mode 3' applies image stabilisation only at the time of exposure – ensuring that photographers can pan with fast-paced action without IS overcompensating for movement. This feature is ideal for sports photographers, who typically have only a split-second to capture a subject in front of them.
Powerful, flexible focusing
The EF 200-400mm f/4L IS USM Extender 1.4x features Canon's pioneering ring-type Ultrasonic Motor providing fast, silent autofocusing. For those who prefer to fine-tune focus themselves, full-time manual override allows photographers to manually focus at any moment when using AF. The Power Focus (PF) mode also increases versatility during movie shooting with the EOS-1D C or EOS-1D X, enabling photographers to achieve an accurate pull-focus effect at one of two speeds, simply by twisting the focus recall ring and stopping at a pre-set distance.
High-performance design for professional demands
Designed to answer professional demands for superior image quality and versatile zoom range, the EF 200-400mm f/4L IS USM Extender 1.4x a boasts a premium-quality design befitting Canon's industry-renowned L-series lenses.
The tough magnesium alloy chassis ensures that, despite the inclusion of the 1.4x extender, the lens is a similar weight to lenses of comparable focal length. Fluorine coatings on the front and rear lens elements also reduce the ability of dirt to cling to the lens surface, while a dust and water-resistant construction allows photographers to shoot in challenging weather conditions. The combination of outstanding optical performance, versatility, weight and tough construction will make it an essential part of any professional sports or wildlife photographer's kitbag.
EF 200-400mm f/4L IS USM Extender 1.4x key features:
Built-in 1.4x extender, for extra magnification when you need it
Shoot in low light with four-stop Image Stabilizer
High image quality using Fluorite lens elements
Fast AF with USM technology
Robust design for use in the toughest environments
¹ F5.6 aperture when the internal 1.4x extender is activated