Canon C100 Dual Pixel Autofocus upgrade: Philip Bloom tests the new upgrade and discusses using autofocus in videos.
Last month, Canon announced an autofocus upgrade for the Canon EOS C100 cinema camera, featuring their advanced new Dual Pixel AF technology, originally introduced in the Canon 70D. This upgrade can be applied to existing C100 cameras – read on for info.
Renowned cinematographer Philip Bloom recently got to try the new AF-equipped C100 cameras in Miami, and while he was hesitant at first, he soon found a way in which the autofocus could be incredibly useful. Overall, it's a very interesting and informative video looking at the place that AF has in video capture:
How To Get The C100 Autofocus Upgrade
If you have a Canon C100 already, bring it in to Orms and we'll send it to Canon South Africa for you. If you are looking to purchase one with the upgrade, we can also send your new camera in for the upgrade.
The upgrade costs €400, and excludes shipping and insurance. The price in rand will fluctuate according to the exchange rate.
The upgrade can only be performed by Canon South Africa, and will take approximately 1 to 2 weeks depending on shipping.
For more information, please email Juanne Whyte, our Pro Broadcast manager, or give him a call on 0214691984. You can also read more about the upgrade on Canon's website, as well as their blog.
At the time of publication, we currently have one Canon C100 in stock, as well as one Canon C300 and one Canon C500 at the reduced price of only R200,000. The Canon C100 is currently the only version which is receiving the AF upgrade.
Here's a few more details from Canon:
AF Area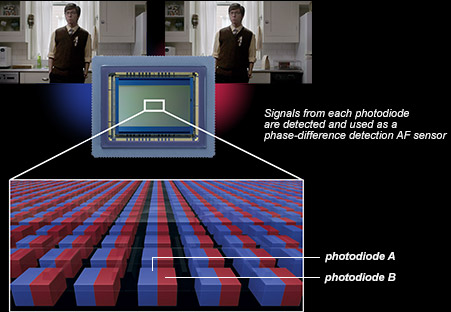 The graphic above showcases the area covered by the Dual Pixel AF upgrade – it only occupies the centre of the sensor, so it cannot track subjects across the entire frame – cinematographers will need to work around this using the AF lock feature, as explained in the video above, and in the graphic below: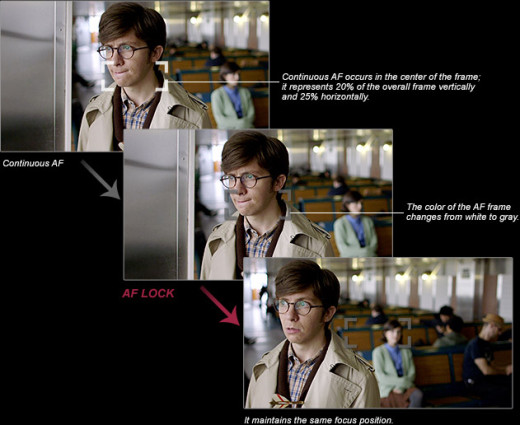 AF Speed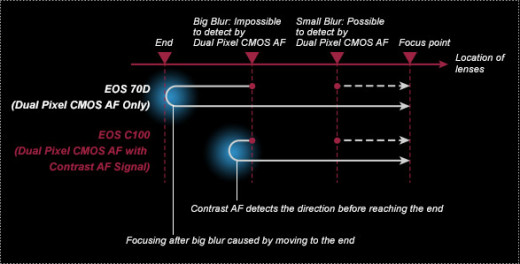 Unlike the 70D's Dual Pixel AF only, the Canon C100's AF technology allows it to detect which way to drive the focussing motors during situations where the subject is very out of focus. On both cameras, if the subject is nearly in focus, the AF technology should correctly detect the direction to drive the motors on the first attempt. This minimises what is often called focus "hunting".