"Kidults" – a perfect title for the new exhibition opening last night at the Free World Design Centre in Cape Town.
Candy floss, popcorn and iJusi – you'll feel like a kid again, desiring the atmosphere of a carnival. "Kidults" – a perfect title for the new exhibition opening last night at the Free World Design Centre.
Passing Frank van Reenen's imaginative mind whilst munching down on some pink candy floss, felt like wandering through a dream. The surrealistic child-like designs – with a twist of dark mind matter – demanded attention and awe. BUT, the golden French bulldog, scattered golden human ears, the baby eating smaller blue babies, while blue ink squirts out of a red-haired and -bearded man's ear onto a pile of human ears, reminded spectators that: this is not a child's room.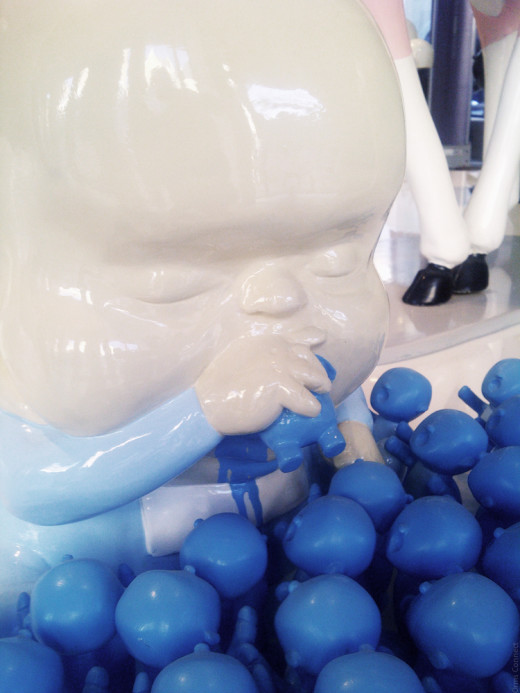 The next pod was filled with artwork from both portfolios one and two of the iJusi magazine, founded by Garth Walker in 1994, featuring artists such as Warwick Kay, Conrad Botes, David Goldblatt and many more. iJusi is now on its 25th issue – featuring artists and providing inspiration through different mediums and styles for anyone and everyone with non-commercial, street-inspired unique roots.
Unpaired shoes? Atang Tshikare is a talented young man. Hand-painted and -rendered, a mad collection of Adidas shoes were scattered on the floor, emerging from a fridge, while shoe-characters were spray-painting and skateboarding in an imaginary world of colourful and innovative illustration in a child-like fashion.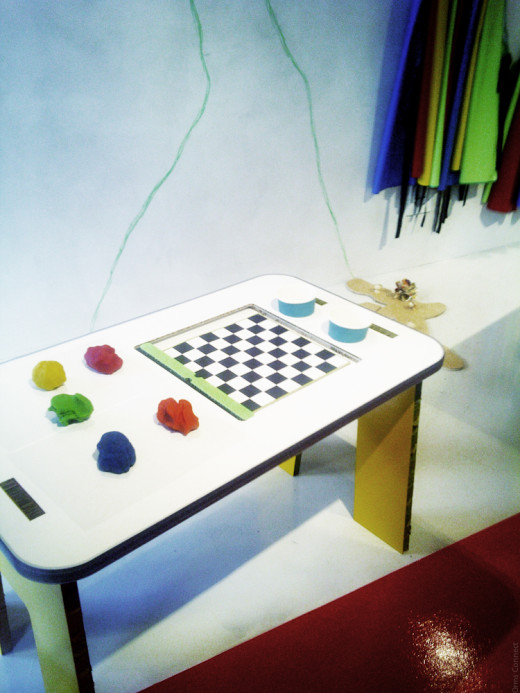 Last but not least, The Fringe presented 'Baja' – a multi-faceted desk for children designed by Yolandi Schreuder. This is a sustainable desk consisting of everything a child needs in the beginning of their educational years, and a ground-breaking design.
Kids running around and painting colourful shapes and characters on massive canvasses, adults drinking their jusi, eating popcorn and candy floss – this exhibition is something you have to visit. The exhibition runs until the 23rd of March 2012.
Visit the Free World Design Centre website for more information.