Interview with Illustrator and Visual Development Artist, Shân Fischer who illustrated the My Orms Story Photobook for us. We were simply delighted with the end result, so we decided to catch up with Shân to find out more about her work, process and the behind-the-scenes of this project. Let's take a look…
As you know we launched our first personalised children's book a few weeks ago, titled the My Orms Story Photobook. A personalised storybook that allows you to make a special little bookworm part of the whimsical world of fiction. To help create this wonderful story, the Orms team called on Illustrator and Visual Development Artist, Shân Fischer. Needless to say, we were simply delighted with the end result and so we decided to catch up with Shân to find out more about her work, process and the behind-the-scenes of this project. Let's take a look…
Let's start at the beginning, please tell us a little about yourself!
I'm a human woman, kinda geeky. I grew up on a farm and day dreamed a lot about becoming a pilot, a zoologist, a bear, a telekinetic superhero… Sadly none of those dreams have come true yet. So I've become an artist. I was trained as a printmaker which may explain my love for dark, detailed and realistic art. However, most of my commissioned illustration work is relatively simple, light hearted and brightly coloured. Clearly, I have a bit of a split personality as I enjoy both equally. I comfortably work in both traditional and digital mediums. I draw, paint, read, cook and I work… a lot.
What made you become an illustrator? How did you get into it and did you study art/illustration, or are you self-taught?
I've always drawn and scribbled… My aunt was a fantastic portrait artist and I grew up watching her draw. I was mesmerized by the way the chalk pastels disappeared behind her impossibly long nails while she worked. Shading and smudging to create the most realistic French style portraits of peasant families and daily life. Simply beautiful.
I have a honours degree in Visual Art as well as a Commercial Art diploma. I have around 12 years of experience working in the publishing, gaming, TV, and film industries as a concept artist, lead background designer, illustrator and Visual Development Artist. I'm also a published children's book illustrator and have worked for the likes of Disney, National Geographic Kids and Penguin Random House Publishers. I think the key to being a working artist is a combination of some innate talent, training, experience and lot and lots of practice.
When you get a commission like this, what is the process? What are the steps you take, from the moment you get the brief until it's ready to be delivered?
My process is pretty straightforward for this kind of project. Once I get brief from my client, (Basically a short description of what the client would like in each illustration and the corresponding text from the story) and contracts are signed I will start with sketching. As I work in lots of different styles, I will ask the client if they have any sample images of styles they like or have in mind for the book. I need to see into your head as much as possible.
Sketching the initial character design, composition and line work takes the most amount of time for me. This is the next step. There is a lot to work out at this stage. Most of the time I keep these drawings to myself and will only send the client a more complete line work. I have found over the years this saves a lot of time. Once the client is happy with these I will refine the illustrations, clean them up and solidify the compositions and characters. Then I'll send them to the client again for approval. Once approved I'll colour them all in. Resend and then tweak and colours that need it. All done.
This process can get complicated sometimes, so clients and myself need to have clear and open communication with each other throughout the process.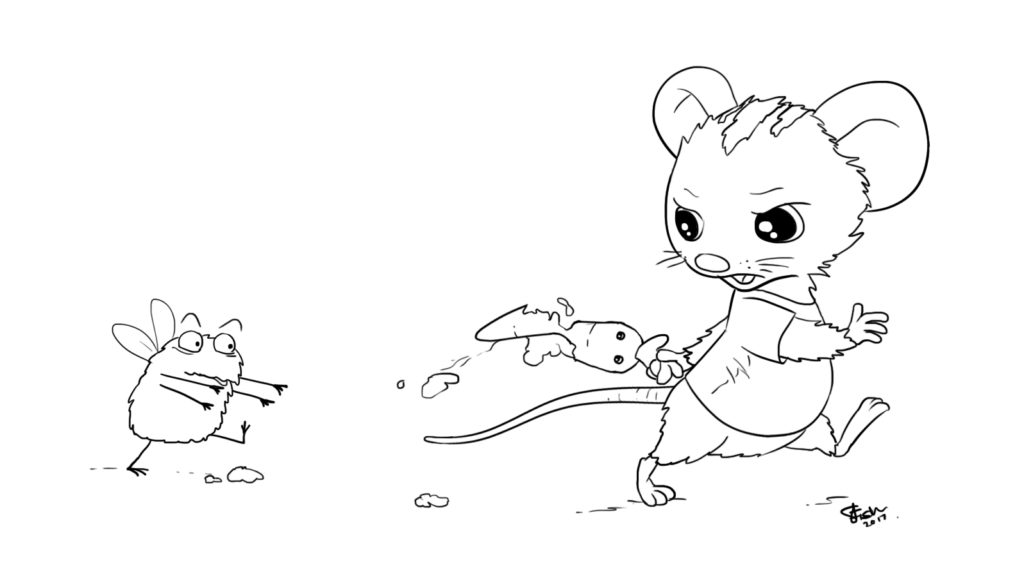 How did you decide on the style and look you wanted to go for with the Orms Story Book? Is it a matter of reading the story and seeing the characters in your mind? Or how do you develop the visual side of the story?
As I mentioned I do illustrate in a lot of different styles. My career began in animation and gaming, working in these fields you need to adapt your style for each new project you work on. This just carried over into my publishing work too. For the Orms Story Book, we chose the style together. It needed to be fun, clear, bright and look good printed. This is a style I used quite often, clients enjoy its commercial appeal and clean print quality.
Most of the time clients choose the style before I get to read the story, which is fine. Very occasionally I will suggest something else if I feel it will work better. The characters usually only form in my mind after I've read the full story and have been sketching for a few days. I'll get a general idea of what I want to achieve quite early on but the character personalities and quirks only develop later. Sometimes I can just draw characters really easily and they work. Other times it's like pulling teeth. I have to write down a list of character traits, draw multiple versions, redraw them, get trusted friends opinions, redraw them and finally decide on one that's good enough.
It's often a frustrating and messy process. Some characters you love. Others you wish you could bring to life just so you can strangle them. Mice are usually fun, however, and these guys were a pleasure to draw. I especially like hiding little sub stories within the larger tale. The baby mouses ongoing rivalry with the fly was a lot of fun!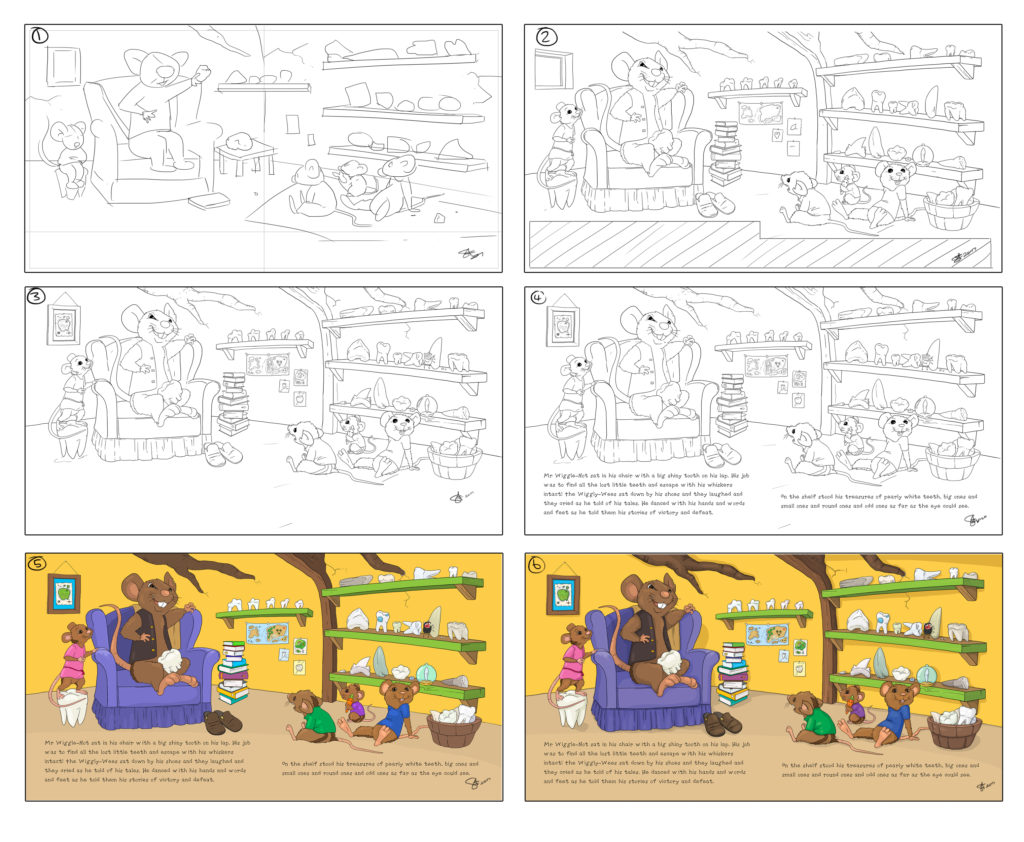 What's been your favourite part of the process and why?
Hmm with all the work I do, I have two favourite parts. Firstly the character design. When it goes well, it is very satisfying. My second favourite part of most of the books I work on is when I deliver the final illustration to the client… and they love it. A job well done.
Was there a least favourite part?
The worst part of the process… it's different with every book. Sometimes the line work takes too long. Sometimes the client is not the best. Sometimes the pay is poor and/or late. Sometimes the deadlines are just too tight and you are disappointed with the work you are forced to send into the world.
What criteria do you use to critique your own work?
I'm an artist. We are critical of everything. All the time.
What's your most used art supply or tool?
Day to day work. Photoshop CC. Enjoyment. Pencils and UniPin pens.
What is your favourite subject or style to illustrate?
I love illustrating nature, animals and weird creatures. I get bored easily, so I like to change it up and draw in lots of different styles.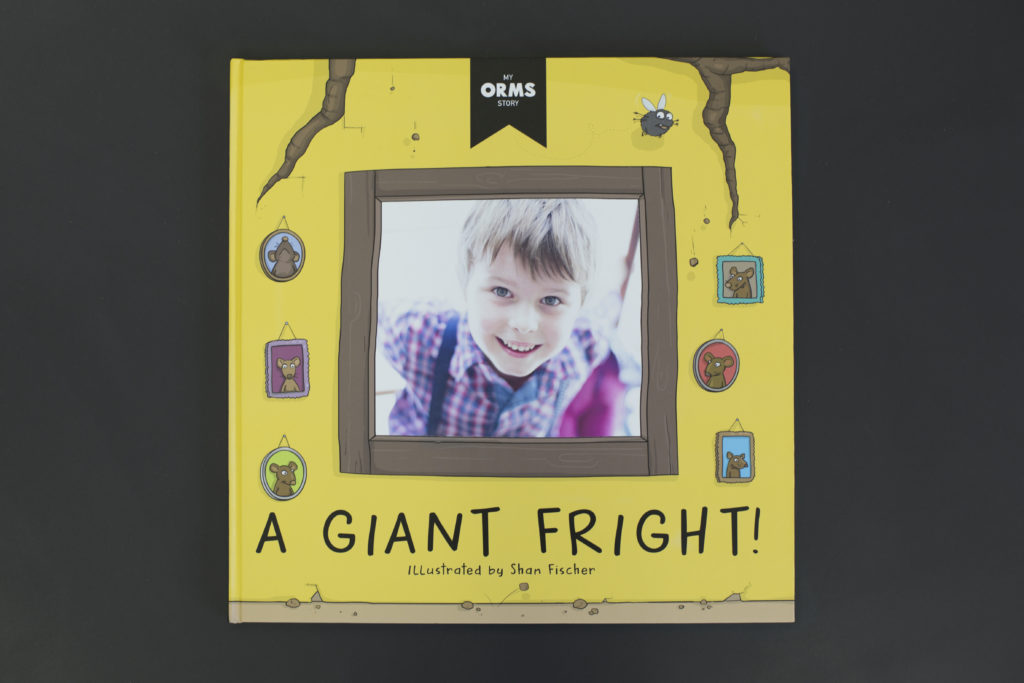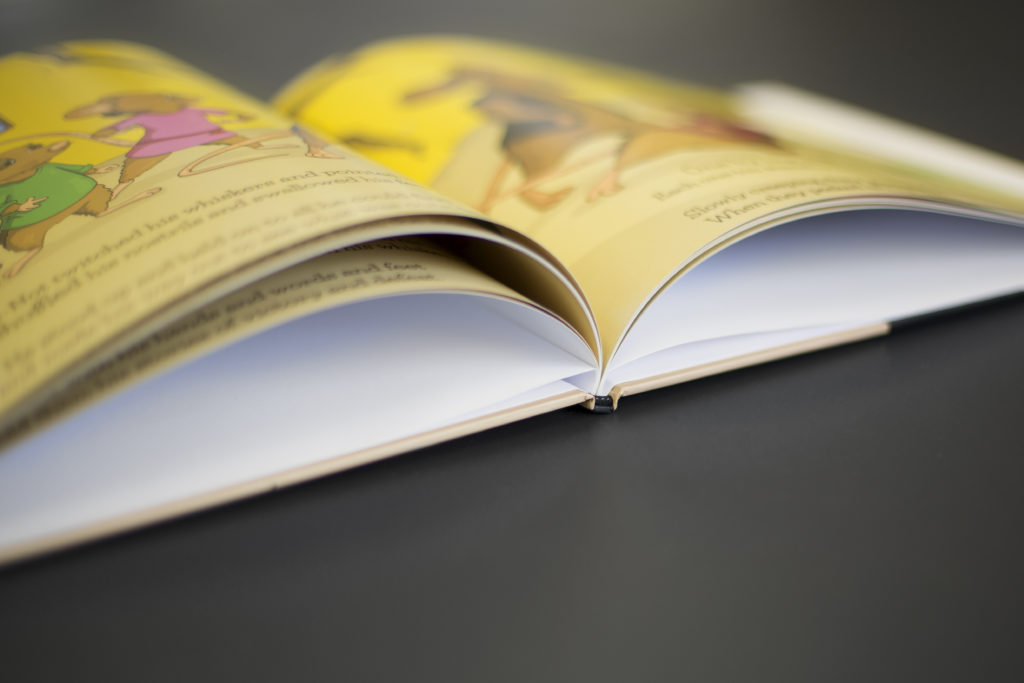 How many hours a day do you spend drawing? Any of that for your own pleasure?
As I'm a freelance illustrator. My day involves all aspects of running a business. I'm the CEO, the manager, HR, finance, the employee, the maid and the coffee kid. I work all the time, unless I'm sleeping. Good days I'll work 9 – 10 hours. This usually starts with answering emails. No coffee, then answering emails. This is often time-consuming as it involves replying to job offers, defining the details of those jobs, working out contracts and deadlines, managing the jobs I'm already working on, keeping current clients happy and not ignoring new clients.
Once this is under control for the day, I start the actual work of illustrating. I cram as much in as I can before my hand starts hurting, then I make some more coffee, pet my amazing cats and sit down again to work. I usually aim for 5-6 hours of drawing, colouring, sketching, swearing and crying per day. With deadlines looming that can go up to 14 hours and sometimes a lot of all nighters. Freelancing is not for the faint of heart. But hopefully, each day ends with a small smile of satisfaction for a job well done.
If you could be commissioned to illustrate anything in the world, what would you jump at?
Hmm, that's a tough one.
No.1 My own story. As in a story, I wrote not a story about myself.
No.2 More animated children's content… for Pixar, Disney and Nickelodeon.
Any advice in particular for people who want to get into illustration? Like good resources, particular steps/milestones they should follow?
As an illustrator, you will be trying to find work in a number of extremely competitive markets. Persevere, do your job as well as you can, BE PROFESSIONAL, don't miss deadlines but also be firm about what you need to make a living. Be humble, but know your worth.
If you are on the fence about becoming an illustrator and can afford to, go to school and get some training. It will give you time to decide what you really want. If you are already decided, then get a great portfolio together and start emailing publishers, studios and agencies. Google is your best friend. Market yourself well! If you choose to freelance. Be prepared. It's like permanently looking for a job. It's stressful and demanding, but it can be great too. All your success (and failure) is your own.
Which Illustrators or artist working today do you admire the most?
So many… Armand Serrano, Frederic Pillot, Denis Zilber, Bobby Chiu, Shaun Tan and Jin Kim are my favourites at the moment.
The My Orms Story books are perfect as gifts or keepsakes and are sure to bring extra charm to story time for years to come. Imagine the delight on their faces as they flip through their new book, only to discover that they're part of the very story they're reading! Find out more about the My Orms Story Photobooks here.
Watch the My Orms Story Inspiration Video here:
Like to design your own My Orms Story Phonebook? Well it's easy, but if you need a little help we've included a quick tutorial video here: