We first encountered Capetonian creator Khalipha Ntloko and her spectacular flatlay photography when she entered one of our competitions earlier this year. Ever since this first interaction, we have been religious stalkers of her aesthetically pleasing Instagram and deeply intrigued by the behind the scenes of her creative process. Naturally, we were utterly delighted when she agreed to a written interview on Orms Connect!
Khalipha is passionate about authenticity and empowering other women to be themselves without apology. In this exclusive feature, she generously shares her practical photography tips and speaks about the driving force behind all her creative endeavours.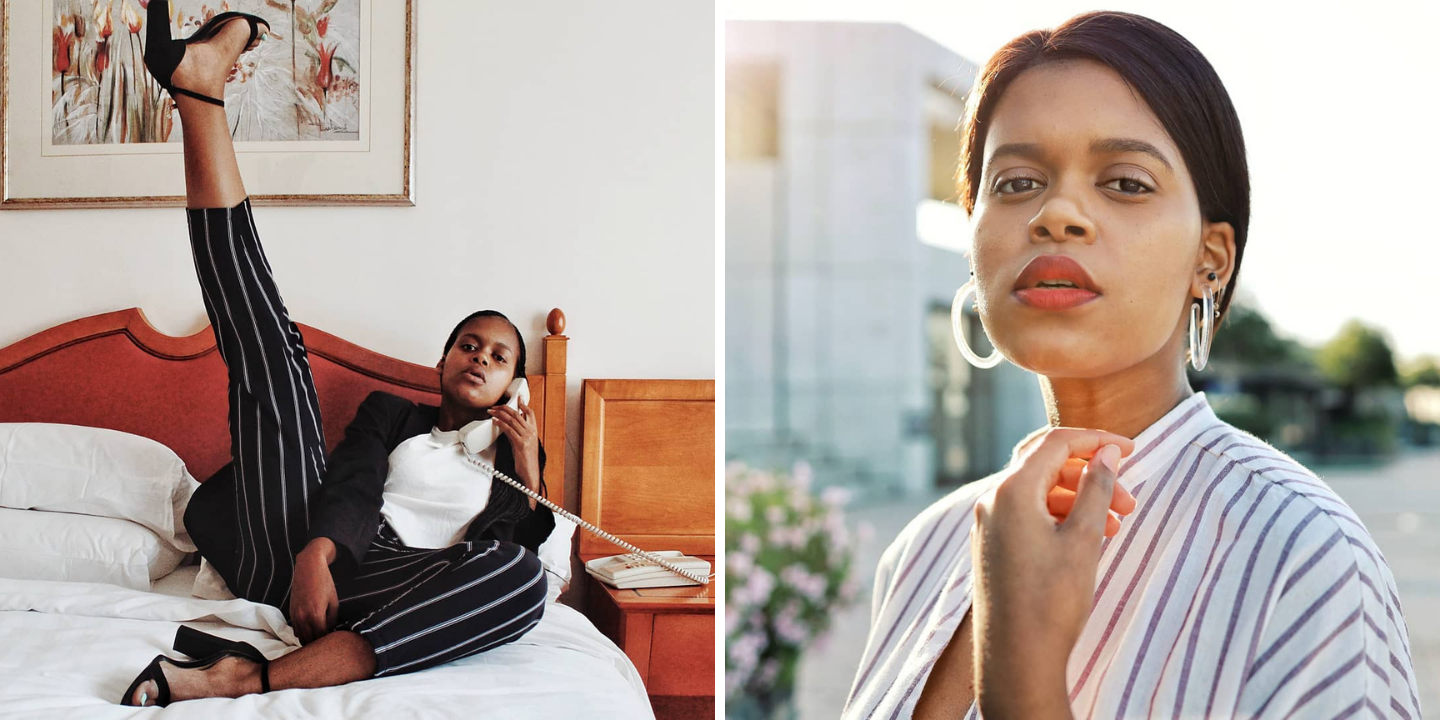 Orms Connect: Let's start at the beginning. What was your first introduction to photography/content creation and how did you go about equipping yourself with photographic skills?
Khalipha Ntloko: So, I was coming to Cape Town for my first year in university in 2015 and I had asked my dad if I could borrow his Canon SX50 HS. I wanted to capture a lot of my experiences in Cape Town, now that I was leaving the nest and discovering things for myself.
From watching people in my classes to food markets, I slowly started to realise how much I like human expression and how I wanted to capture that in photographs. So I read a few blogs on taking portraits.
When it came to equipping myself, reading articles and blog posts was a start but as a student, I was reading a lot back then so I switched to watching YouTube videos instead. I remember the first 'photography tutorial' I ever watched was Peter McKinnon's "8 Camera Hacks in 90 Seconds" video. I was instantly hooked at the different ways I could create certain effects using objects and Peter's overall content delivery in his tutorials. I'd sit and watch him every day, learning the camera basics and how to edit. The camera I had was a bridge camera so there was a lot of adapting I had to do to better understand the different camera modes on that bridge camera. But, everything I know about photography is really from YouTube and applying what I was learning as best as I could with the camera I had. Along with YouTube, I've coupled my photography skills with practical application and experimenting with the concepts I'd come across, especially with flatlay photography.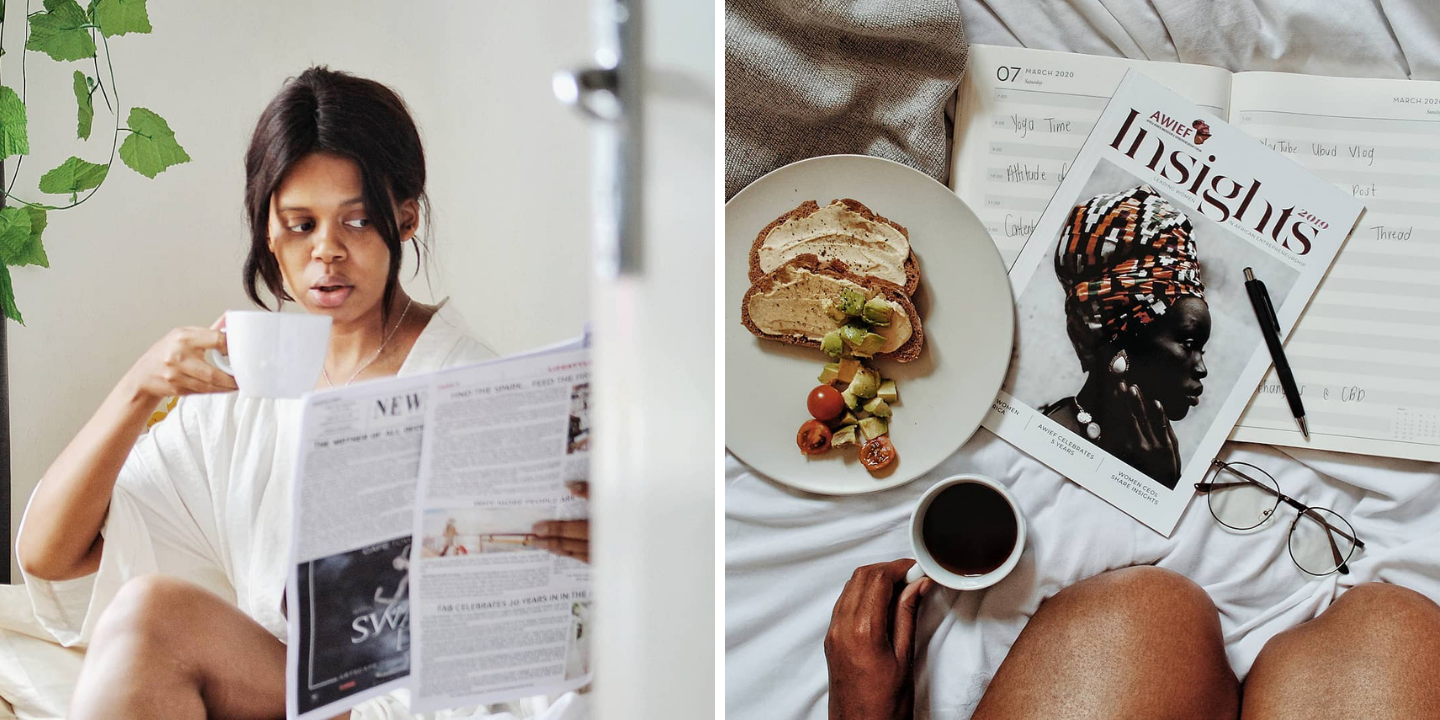 Orms Connect: Tell us about your lovely blog! What inspired you to start sharing your lifestyle in written form?
Khalipha Ntloko: Oh gosh, this is the 3rd time I've made changes to my blog but at least this time, I'm 1000% happy with it! In the beginning, when I started my very first blog, I created it because I personally felt like I needed a relatable black female in the creative space to look up to who was also based in Cape Town. I wanted to see someone make it big in this city, and inspire me to believe that I could achieve the same; that I could be a student AND a budding photographer AND a content creator. But at the time, I felt like that role model didn't exist for me. So I created that blog to become the role model I wish I had. 
Plus, when you write as many essays as I have written, you develop this knack for writing. I hadn't yet tapped into sharing my lifestyle visually through video but I love to write and essentially created a lifestyle journal that I hoped would inspire the next young black woman. This is what still underpins my personal blog today.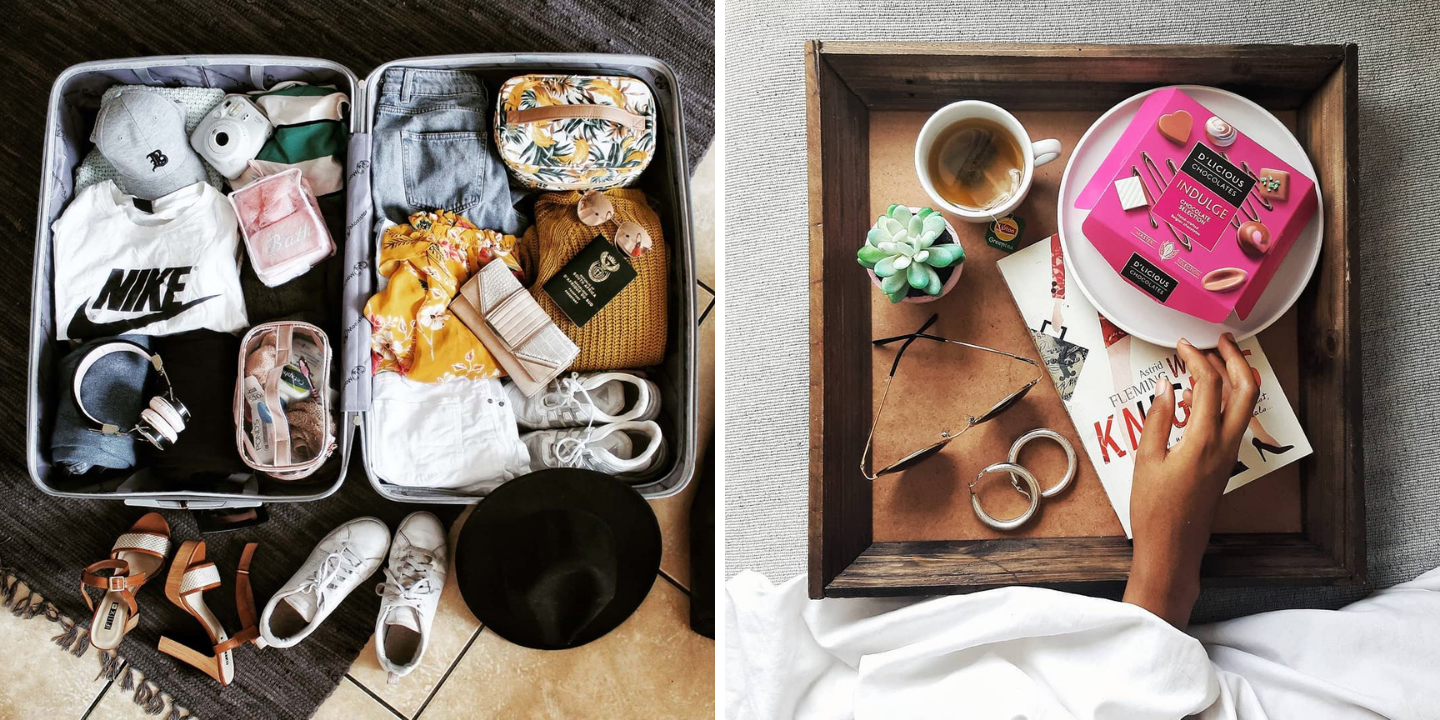 Orms Connect: Anyone who follows you online will know that flatlay photography is your speciality and really a true passion of yours. In your expert opinion, what are the ingredients for composing the perfect flatlay? 
Khalipha Ntloko: From my research and experiential learning, a really great flatlay comes down to 3 things: Background, Layout and Details.
Just like portrait or fashion photographers scout a location for their own photoshoots, the background of a flatlay photo serves as your location and can really enhance or take away from the overall image. I'm a huge fan of keeping backgrounds neutral because they provide the most room for the objects you can play around with, but also, textured backgrounds can serve as amazing foundations for your flatlay photo. I'm a big fan of wooden backgrounds particularly (they're the best for food-inspired flatlays).
Next up, the Layout. So, from the years of research and observations and personal experience, I've seen 3 basic layout styles in flatlay photography: 1) Structured, where you use lines as a guide to help you place objects, 2) Unstructured, where you use more curve lines, and 3) "In the Moment", where you essentially add a piece of yourself to the photo. Each of these layout styles serve their own purpose and it should make sense to use a particular layout style for a certain flatlay photo. Structured layouts can feel harsh and very organised (which works well for, let's say an 'on my desk' or 'in my camera bag' themed flatlay), while Unstructured feels soft (and works for beauty-themed flatlays) and "In the Moment" feels like you're being invited into the space (hello food and lifestyle themed flatlays!)
And finally, the Details. I mean it when I say that a flatlay can quite literally look 'flat' because of a lack of detail. I'm talking about taking those little extra steps to elevate your flatlay and make it uniquely yours or to complete the story you want to tell, and there's a number of ways to do this. I personally like adding details through personalisation (adding my own personal items or handwriting a note to include). Perhaps adding detail for you means playing around with negative space versus filling the frame. It's in the props you use that should help tell the overall story of your flatlay photo. It's the actual textures you use to bring out the photo. If you ever feel like your flatlay photo looks empty, think about the ways you could add some detail to fill it up.
A bonus tip would be to think about symmetry. At the end of the day, a flatlay photo should feel balanced. Whatever focal product(s) you're using, be intentional with where you're going to place the product, and whatever props you use, those should support the main focal product(s). The photography 'Rule of Thirds' has helped me achieve this balance because it helps to guide the eye on where to look and what to focus on.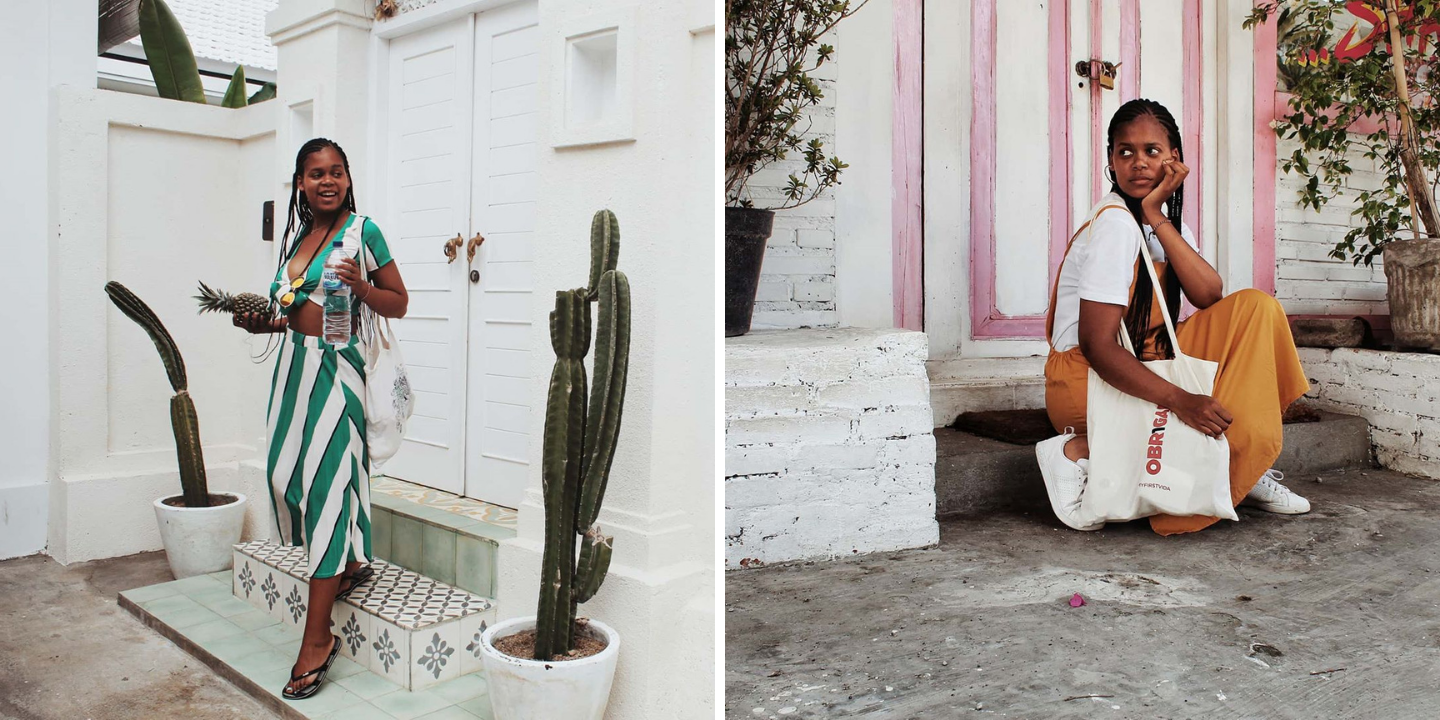 Orms Connect: You also feature in many of the photographs on your Instagram. Do you take all of these as self-portraits? If so, what does that process look like?
Khalipha Ntloko: Oh yes, I take about 95% of my own self-portraits (the rest, my amazing little sister has taken them and honestly, she's going to be a phenomenal photographer someday). With the self-portraits I take, it's quite a tedious job, mainly because my Canon 4000D doesn't have a flip-out screen, so it's a guessing game and a lot of back and forth in terms of getting the focus right and me being in a certain position. 
I've moved away from "selfie-style" and rely a lot on my tripod for stability; plus, I can capture more of myself in these photos anyway.
Once I have my camera set up on a tripod and have an idea of the self-portrait I'm taking, I set my camera for a 10s countdown to take 5 images at a time. From here, it's a lot of crossing fingers that I'll have that one good self-portrait!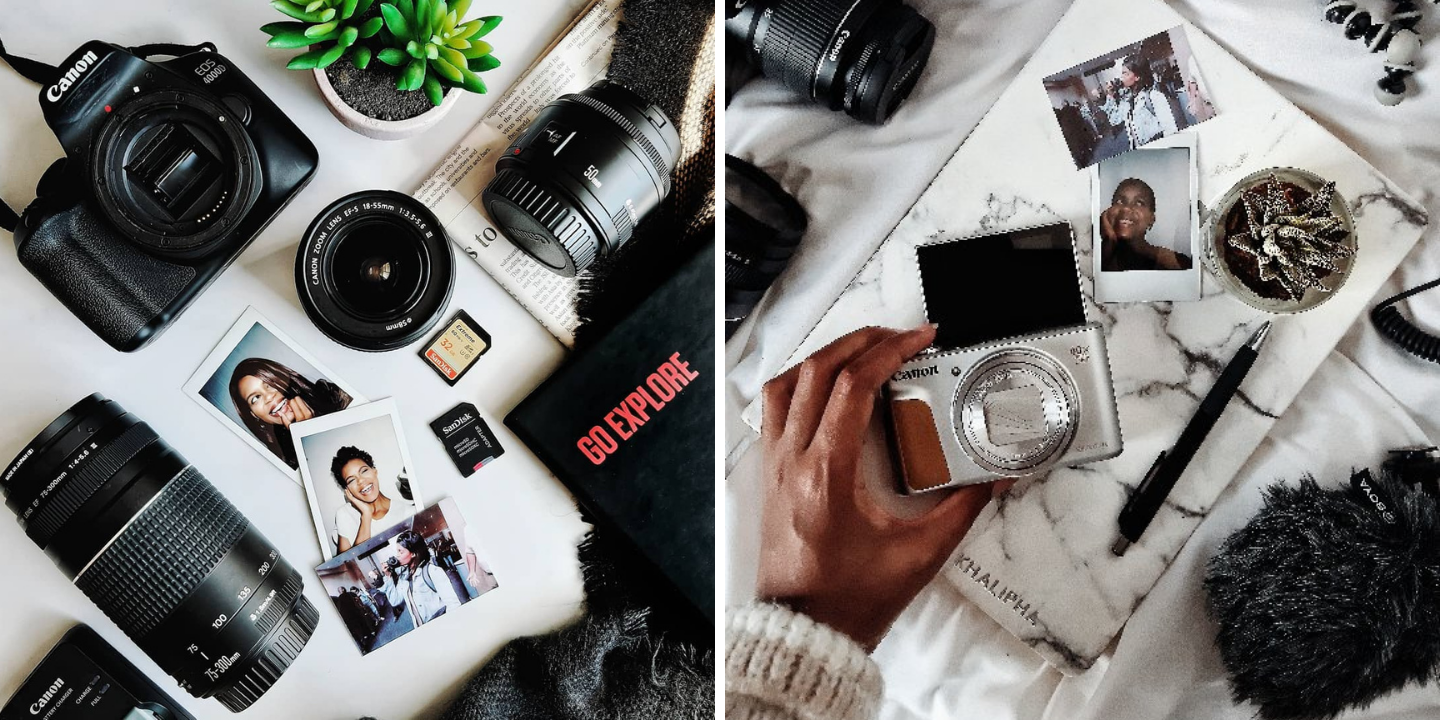 Orms Connect: It's no secret that you are a big fan of Canon. What exactly is in your gear bag at the moment? 
Khalipha Ntloko: Right now I have…
the Canon 4000D, for most of my photography and video work
EFS 18-55mm lens
EF 50mm f1.8 lens
EF 75-300mm lens
Canon SX740 HS, for vlogging
Joby Gorillapod Mini Tripod
Boya Directional Video Condenser Microphone
32GB, 2x 16GB and 2x 4GB memory cards
Godox 110cm 5-in-1 Reflector
Marumi UV Haze filter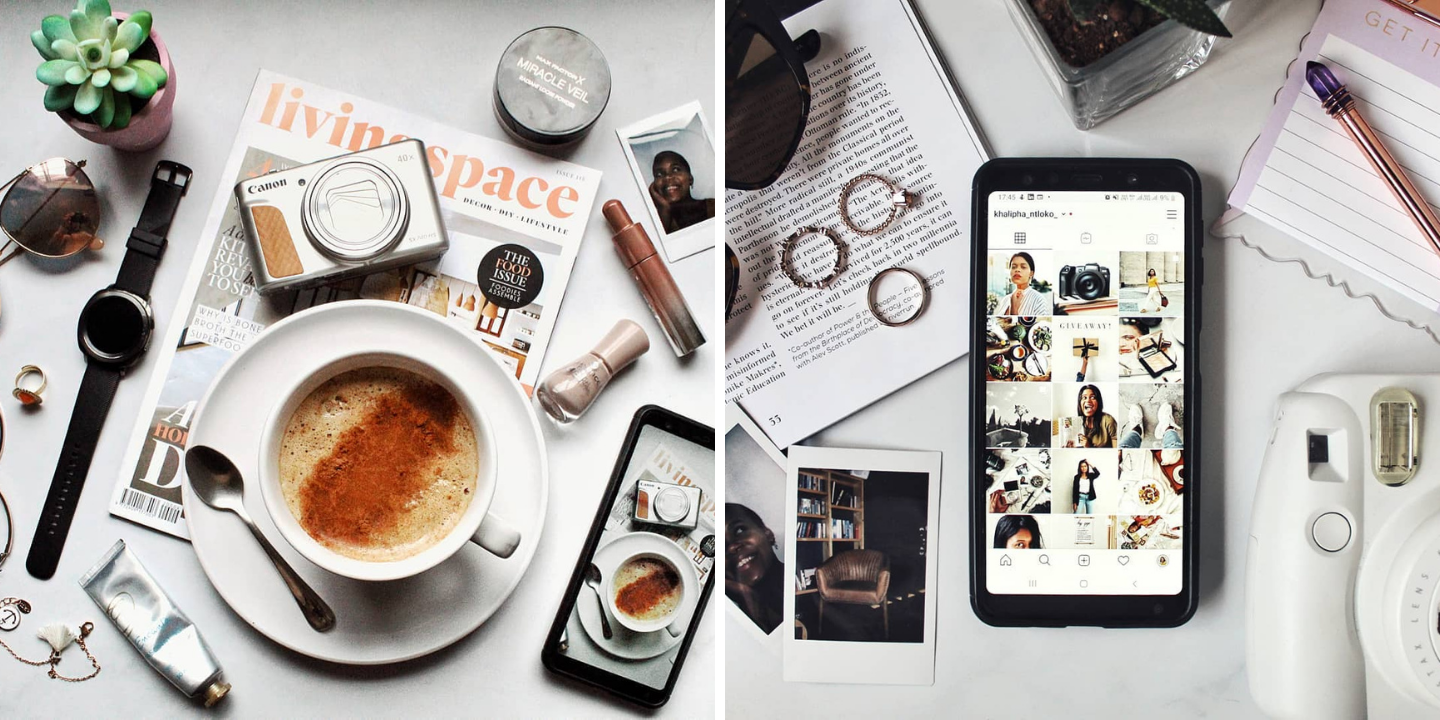 Orms Connect: In addition to shooting on your DSLR, it seems like you also shoot lots of your images on your smartphone. When do you choose to capture images on your camera and when do you rather reach for your smartphone to snap a shot?
Khalipha Ntloko: If I've intentionally planned to go somewhere, my Canon is probably coming with me and because I'm a stickler for high-quality photos, I'll usually bring my 4000D. I've been experimenting with 'flatlay within a flatlay' photos, and I usually use my Canon SX740 HS for those. 
With my smartphone, it's often a spur of the moment where I didn't plan to bring my camera but I just so happen to come across a place that sparks my creativity and I need to capture the moment. I also use my smartphone when I want to quickly take a photo and upload it to social media in less than 7min.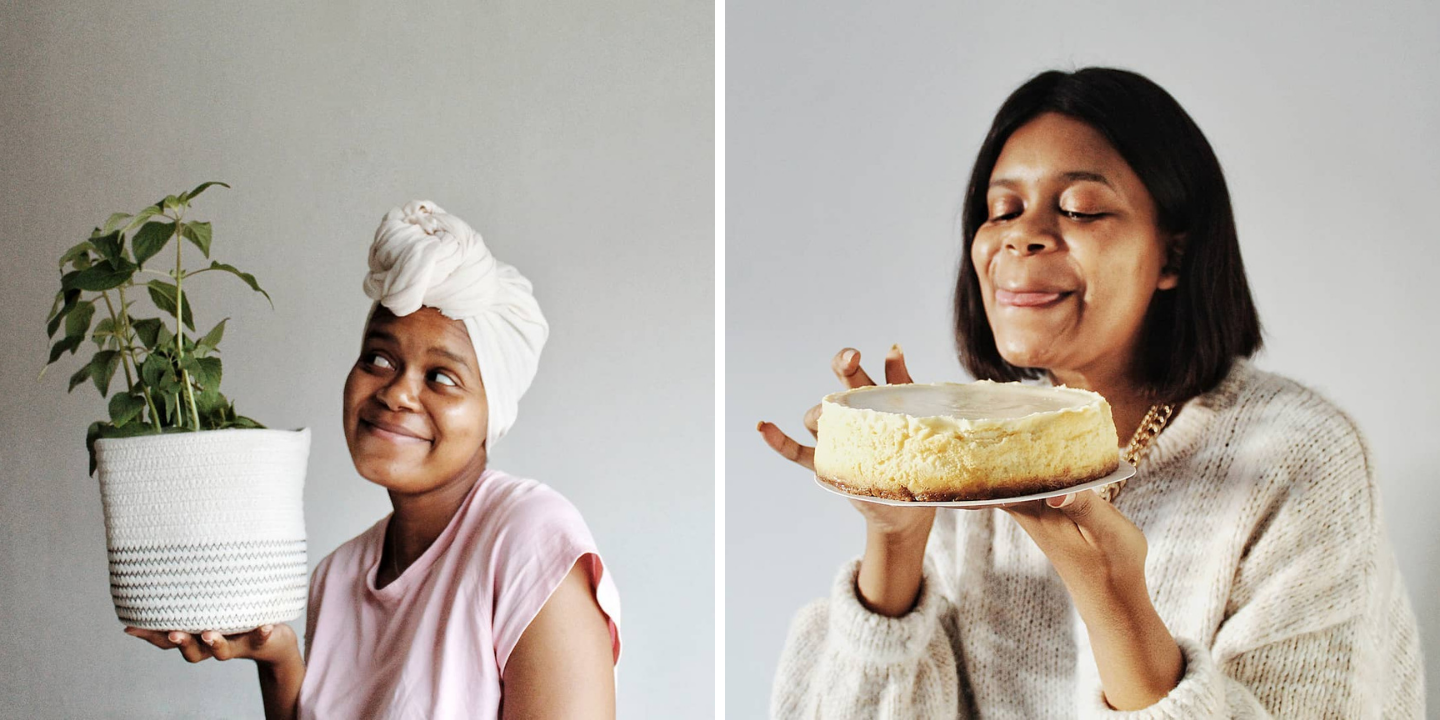 Orms Connect: While you have an established photographic presence on your Instagram, you also have a YouTube channel and more recently you began uploading videos to your IGTV. What do you enjoy most about creating videos and what software do you use to cut your edits together?
Khalipha Ntloko: I absolutely love storytelling! I've been in high school plays, directed one too, and there's something so magical to me about taking a script or a creative idea and turning it into a video that tells some kind of story. 
My YouTube channel started out with a lot of beauty and vlog content, but I've shifted towards more lifestyle, photography tips and cinematic-style vlogs. I really enjoy taking viewers with me on a visual journey in my videos, and I can't wait to do it again really soon with my first short film that I'm currently editing.
Which brings me to the software I use! On mobile, I use an app called 'VlogIt', which is a Filmora app (I find 'VlogIt' to be a little easier to use and better for the Mini Movies I have up on my Instagram Highlights Reel). For bigger video projects, I switch between Filmora Wondershare and Adobe Premiere Pro. I like Filmora purely because it feels like the simplified version of Premiere Pro and when I don't have a lot of time to edit, I use Filmora. But for some of the more cinematic sequences I want in my vlogs (like smooth transitions between cuts, better sound design and editing to the music, and colour correcting), I opt for Premiere Pro. I'm still learning the ropes but I'm glad my YouTube channel provides the place for me to explore and experiment, because one day, I'll probably make a whole feature film using Premiere Pro.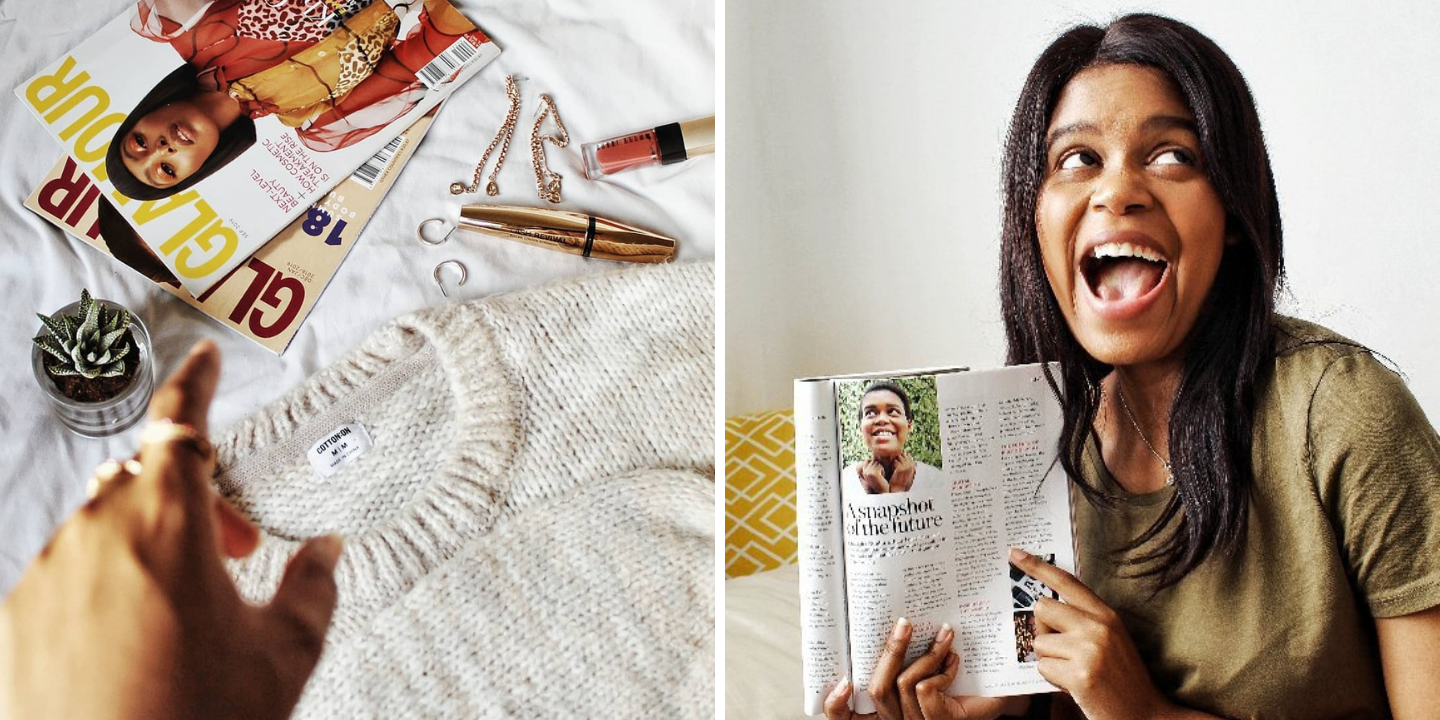 Orms Conenct: In August / September, you were featured in Glamour SA. Congratulations! Can you tell us how this came about and what the experience was like? 
Khalipha Ntloko: Oh, thank you so much! Man, it still feels like a dream every time I open that particular issue and see my face on page 75. My future kids will never hear the end of it 😀
In terms of how that happened, I put out a tweet way back in February saying that I wanted to be featured in a magazine this year for my flatlay photography. As much as I am a content creator and could have asked for a feature on that, I really want people to see flatlay photography as more than just putting objects together and taking a quick picture – there is so much more to it and in order for people to take it as seriously as I do, I've got to go big to put it on the map, and this magazine feature was one way to do it. 
So I clicked 'Tweet' and said a prayer to God that we were somehow going to make it happen. As much as I believe in manifesting your dreams, you also have to meet your dreams halfway and actually put in the work. I'm not going to be the best flatlay photographer in South Africa by sitting at home and waiting for it to happen; I need to actually do something, so as soon as I shared that tweet, I made a list of magazines and publications to approach.
About 2 weeks later, I came across the editor of Glamour SA doing an Instagram Q&A session and I submitted the question: "I'm a black female photographer on the rise – how do I get one chance to work with you on one issue?" Lo and behold, she shared her email address with me and told me to "Shoot your shot." 
The first surreal, "this is really happening" moment I had was when I got the questions to answer for the feature. I definitely shed a few tears because it was still unbelievable to me that this was actually happening. The really big surreal moment was finally picking up the magazine in store over a weekend and seeing my feature. It's an experience I won't forget because it truly shows just what can happen if you put your mind to something and go out to make it happen.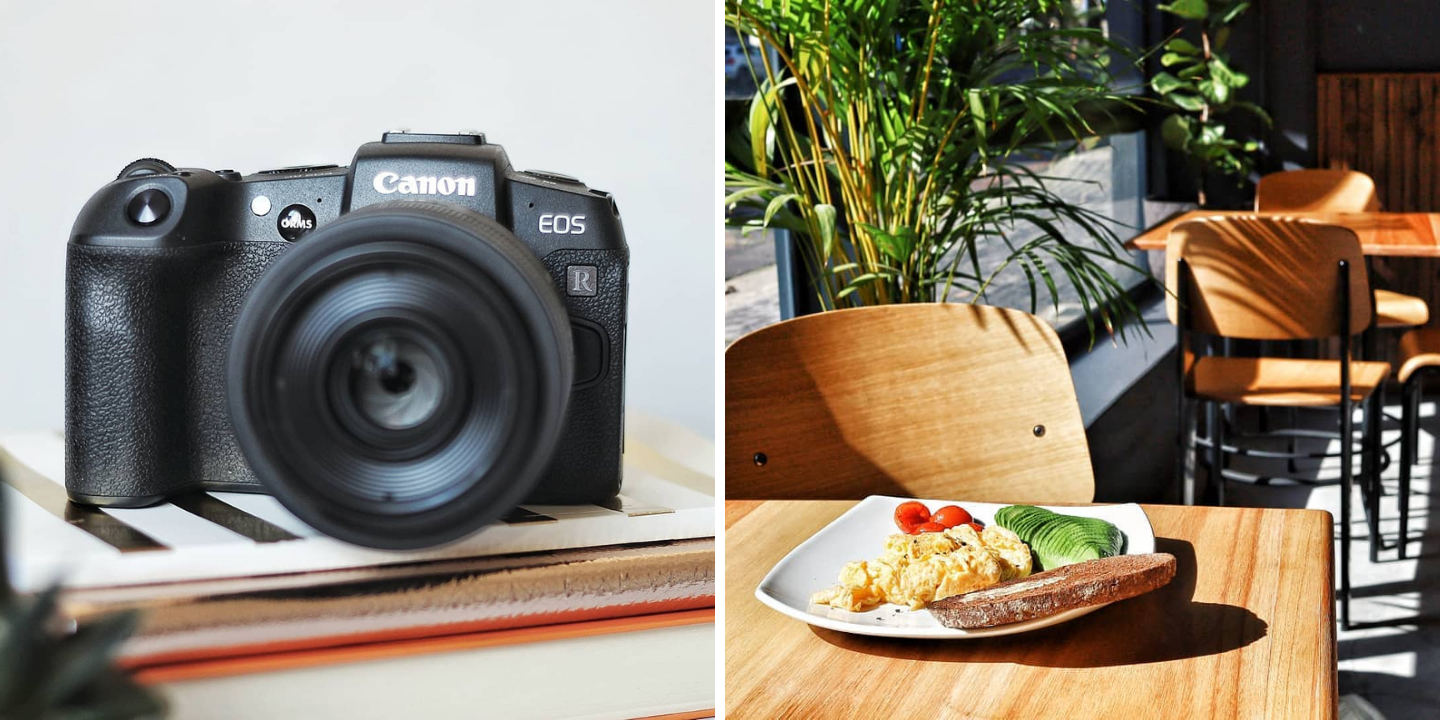 Orms Connect: You recently rented a Canon EOS RP from us. What was the RP like to shoot with? What did you like/dislike?
Khalipha Ntloko: AN ABSOLUTE DREAM!! I remember coming across the EOS RP for the first time at the Canon Roadshow in Cape Town last year and again at a fashion photography shoot with Canon at FORMS, and I was completely blown away by both its photo and video capabilities. As a photographer and content creator, it's such a perfect camera. Firstly, I love the flip-out screen for vlogging and sit-down style videos. My 4000D doesn't have this feature so it was so refreshing to finally see myself and not have to guess if I'm in focus. For vlogging, it was such bliss to use the EOS RP.
I rented out this camera body with the RF 35mm lens and wow! I loved it for the self-portraits I managed to capture. It's on the heavier side so I wouldn't vlog with it (unless I'm getting B-Roll or supplementary footage) but something I really liked was how silent the Autofocus was with this lens. My usual kit lens is so noisy with Autofocus so the silence was a welcome change. The audio capabilities on the camera are also really superb. I never once used my microphone with the EOS RP just because the in-camera microphone worked like a charm. 
Oh, and the in-camera editing I could do – loved that for some of the food photos I captured!
I could definitely tell that I needed a Zoom lens for the flatlays I took and think the RF 15-35mm is a lens I could have used to get those flatlay photos. 
What I didn't like was having to give it back. But also, having to use an adapter to mount my EF lenses; it's just a lot smoother and more effortless to use the RF lenses.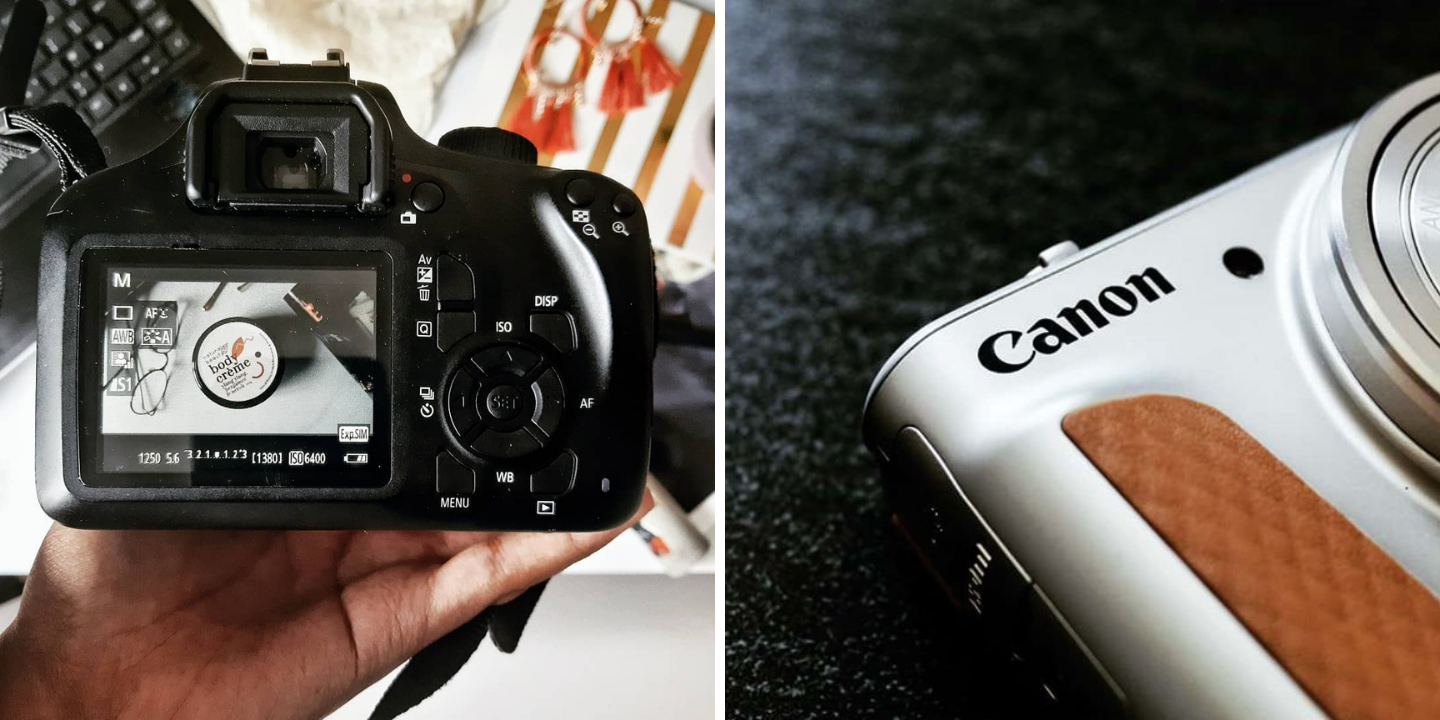 Orms Connect: If you could put together the gear bag of your dreams, what equipment would it include?
Khalipha Ntloko: Oooh, a girl can most certainly dream and for me, my dream gear bag includes:
Canon EOS RP
RF 15-35mm (for flatlays)
RF 35mm (for portraits)
RF 24-240mm (for my B Roll)
Rode Video Mic Pro
2x SanDisk 128GB memory card (one for photos and the other or videos)
Lowepro Backpack
Joby Gorillapod 5K Tripod
Remote Cable Release (to make those self-portraits just a little easier)
You can find Khalipha Ntloko creating beautiful visual content on her Instagram, writing about life on her blog or sharing her creative insights on her YouTube channel.