Photos from yesterday's press events with Samsung and SARU, and the World XV squad announcement.
Yesterday, we attended the signing of Samsung's two year sponsorship deal with SARU, as well as the Samsung World XV press event, where the squad was officially announced ahead of the match against the Springboks this weekend.
Saudiq Davids, one of our sales consultants at Orms Cape Town, photographed the signing and the announcement of the team with the new Samsung NX30 camera and the Samsung 16-50mm f/2.0 lens.
The Samsung NX30 billboard on show outside Orms Cape Town.
Saudiq says: "I had the pleasure of using the Samsung NX30 for this particular event along with the new 16-50mm f/2.0 lens. The camera's performance was great – the action shots and the speed of focus is outstanding and having to do shoot for hours this camera is easy to handle and lightweight. For people that travel a lot as well as those interested in capturing the moments of their favourite action sports, I would highly recommend the NX30."
"Besides having the equipment to capture the moments of this morning, my personal experience and interaction with the team was really awesome. The highlight of my morning was at the point of actually being on the field with this phenomenal team, getting to photograph them in action and hearing the announcement of the official World XV Rugby Team that will be playing on Saturday. Overall, I had the greatest experience meeting the team and can't wait to see them in action this weekend."
Samsung and SARU partnership signing:
Announcement of the Samsung World XV squad: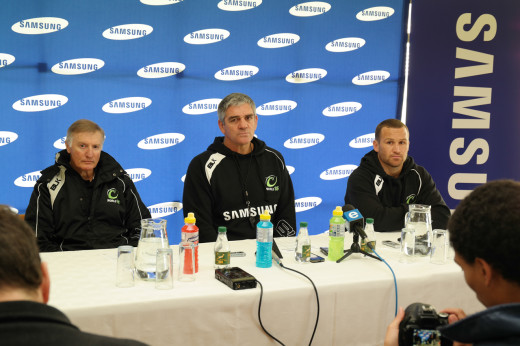 Backs
Full Back/Wing: Drew Mitchell (Toulon) Australia 63 caps
Full Back/Wing: James O'Connor (London Irish) Australia 44 caps
Wing: Hosea Gear (Toulouse) New Zealand 14 caps
Centre: Wynand Olivier (Montpellier) South Africa 37 caps
Centre: Benson Stanley (Clermont) New Zealand 3 caps
Centre/Wing: Rene Ranger (Montpellier) New Zealand 6 caps
Fly Half: Francois Trinh Duc (Montpellier) France 49 caps
Fly Half/Centre: Matt Giteau (Toulon) Australia 92 caps
Scrum Half: Rory Kockott (Castres), South Africa 0 caps
Scrum Half: Jimmy Cowan (Gloucester) New Zealand 51 caps
Forwards
Back Row: Alexandre Lapandry (Clermont) France 10 caps
Back Row: Roger Wilson (Ulster) Ireland 1 caps
Back Row: Steffon Armitage (Toulon) England 5 caps
Back Row: Mamuka Gorgodze (Montpellier) Georgia 57 caps
Second Row: Iosefa (Joe) Tekori (Toulouse) Samoa 27 caps
Second Row: Alistair Hargreaves (Saracens) South Africa 4 caps
Second Row: Juandré Kruger (Racing Metro) South Africa 17 caps
Hooker: Andrew Hore (Highlanders) New Zealand 83 caps
Hooker: Craig Burden (Toulon) South Africa 0 caps
Prop: Fakaanaua (Sona) Taumalolo (Perpignan) Tonga 13 caps
Prop: Julian Redelinghuys (Lions) South Africa 0 caps
Prop: Carl Hayman (Toulon) New Zealand 45 caps
Prop: Schalk Ferreira (Toulouse) South Africa 0 caps
Total: 621 caps, 9 Countries
Coaches
Nick Mallet Head Coach
Alan Solomons Assistant Coach
Omar Mouneimne Defence Coach
Information from Springbok Supporter.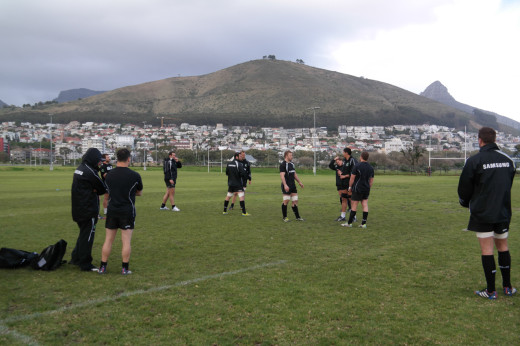 The lunch after the signing at Steenberg Golf Estate: