Announced today, the all-new Tamron 11-20mm F/2.8 Di III-A RXD lens is making history! This bone fide ultra wide-angle zoom lens is the world's first f/2.8 offering among interchangeable f/2.8 ultra wide angle zoom lenses for Sony E-mount APS-C mirrorless cameras.
Let's get down to business and unpack everything we know about this new lens from Tamron.
Wide aperture, versatile focal length. We've said a lot about this little lens' f/2.8 aperture, but we can say more! It holds that wide maximum aperture across its entire zoom range, meaning you get great lowlight performance regardless of your chosen focal length. Moreover, the 20mm focal length (full-frame equivalent of 30mm) is perfectly suited for everything from shooting landscapes, astrophotography and casual happy snapping.
Compact and lightweight = superior usability. The Tamron 11-20mm F/2.8 Di III-A RXD lens weighs in at a remarkable 335g and measures only 86.2mm. This compact size provides a comfortable user experience, even when shooting video with a small tripod or a gimbal.
Outstanding optical performance. The 11-20mm F2.8 produces sharp images with highly corrected optical aberrations. This performance is made possible by the incorporation of two GM (Glass Moulded Aspherical), one XLD (eXtra Low Dispersion) and two LD (Low Dispersion) lens elements. Additionally, it features Broad-Band Anti-Reflection Generation 2 Coating that minimises ghosting and flare, allowing the minute details of objects to be revealed even in backlit shooting conditions.
Super-close Minimum Object Distance. At its minimum focal length of 11mm, this new Tamron lens boasts a stunning close-range shooting performance with a MOD of only 0.15m. It also has a maximum magnification ratio of 1:4. This exciting feature encourages users to engage in wide-angle macro shooting, exploiting the creative effects of the naturally occurring distortion found in ultra wide-angle lenses.
User-friendly unified 67mm filter size across the series. The 11-20 F2.8 uses the 67mm filter size, same as almost all of Tamron's lenses for Sony E-mount cameras. This permits sharing of PL and ND filters and lens caps across most of the range.
Quiet, fast and compatible. The RXD (Rapid eXtra-silent stepping Drive) stepping motor unit is exceptionally quiet, making them perfect for video use. The lens also possesses a Moisture-Resistant Construction and has a Fluorine Coating to provide extra protection. Finally, it is compatible with many camera-specific features and functions, including Fast Hybrid AF and Eye AF.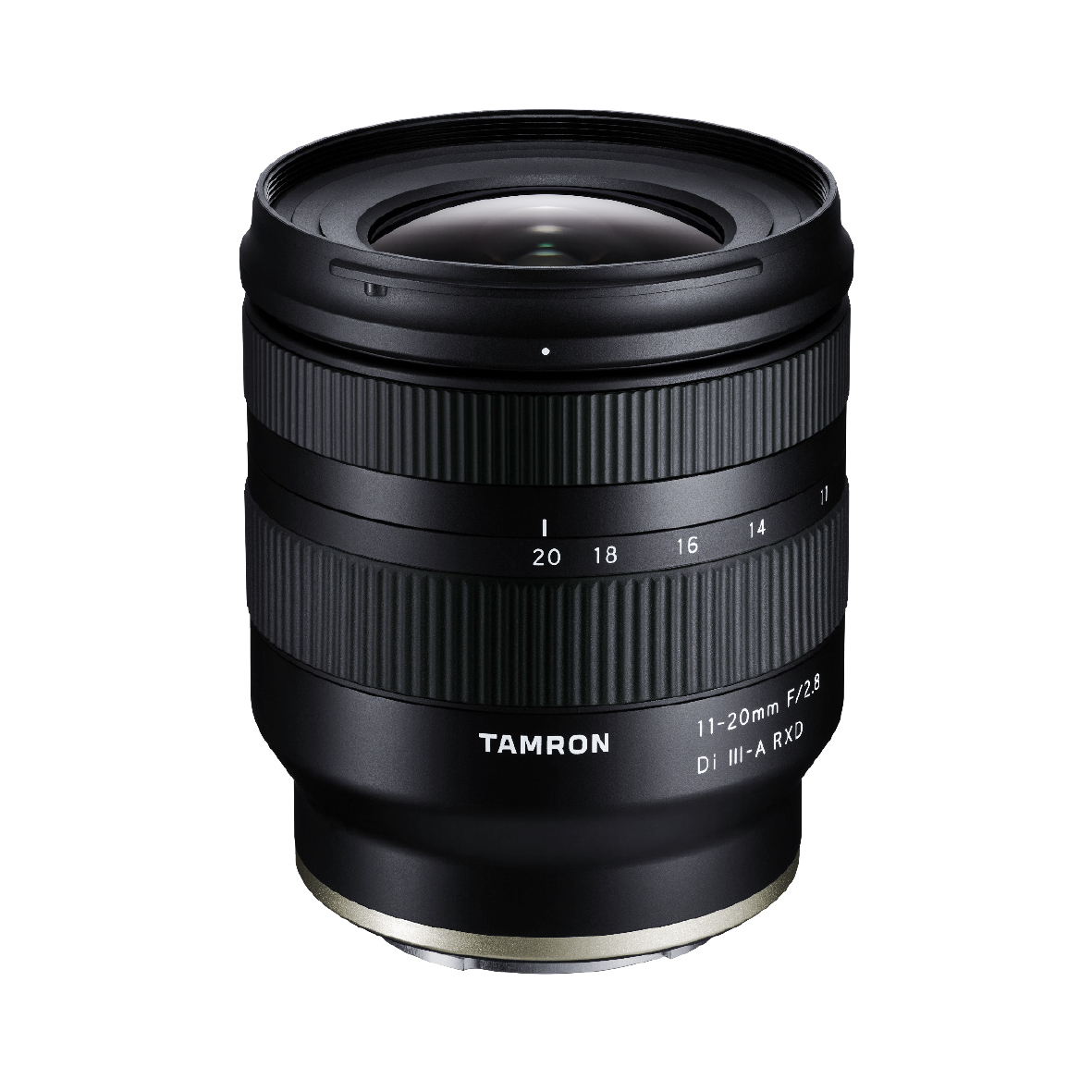 While dates are subject to change, we anticipate that the Tamron 11-20mm F/2.8 Di III-A RXD lens will be available in store from late June. Find out more on Orms Direct.