What would the Adobe Photoshop user interface look like if it consisted of actual tools instead of their pixelised counterparts?
In 2008, Indonesian ad agency Bates141 Jakarta was asked to design an Adobe Photoshop print advertisement for the new (at the time) CS4 software. This is what they came up with: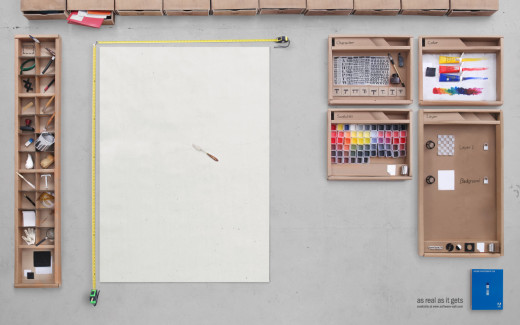 Brilliant, right? Not only is it a clever idea, but the execution was practically flawless – it truly is a real life Photoshop user interface! Below are some close-ups and making-of shots, and here's a link to a high-res 6307 x 3941px version for those that want to use it as a desktop wallpaper. For more, visit the Flickr set.
Full Credits:
Agency: Bates141 Jakarta
Creative Director: Hendra Lesmono
Art Directors: Andreas Junus & Irawandhani Kamarga
Copywriter: Darrick Subrata
Account Executive: Nitya Priyahita
Photographer: Anton Ismael