The Getaway Photographic Competition is one of the leading competitions on the South African photographic calendar. Every year, thousands of photographers flock to enter this prestigious competition with the hope of being crowned the winning photographer. For years, the Getaway Photographic Competition was dedicated to wildlife photography. However, for the 2022/2023 competition, they opened the competition to include People and Culture, Travel, Street, Landscape and Drone photography. After reviewing thousands of entries, we are proud to announce the winners of the 2022/2023 Getaway Photographic Competition: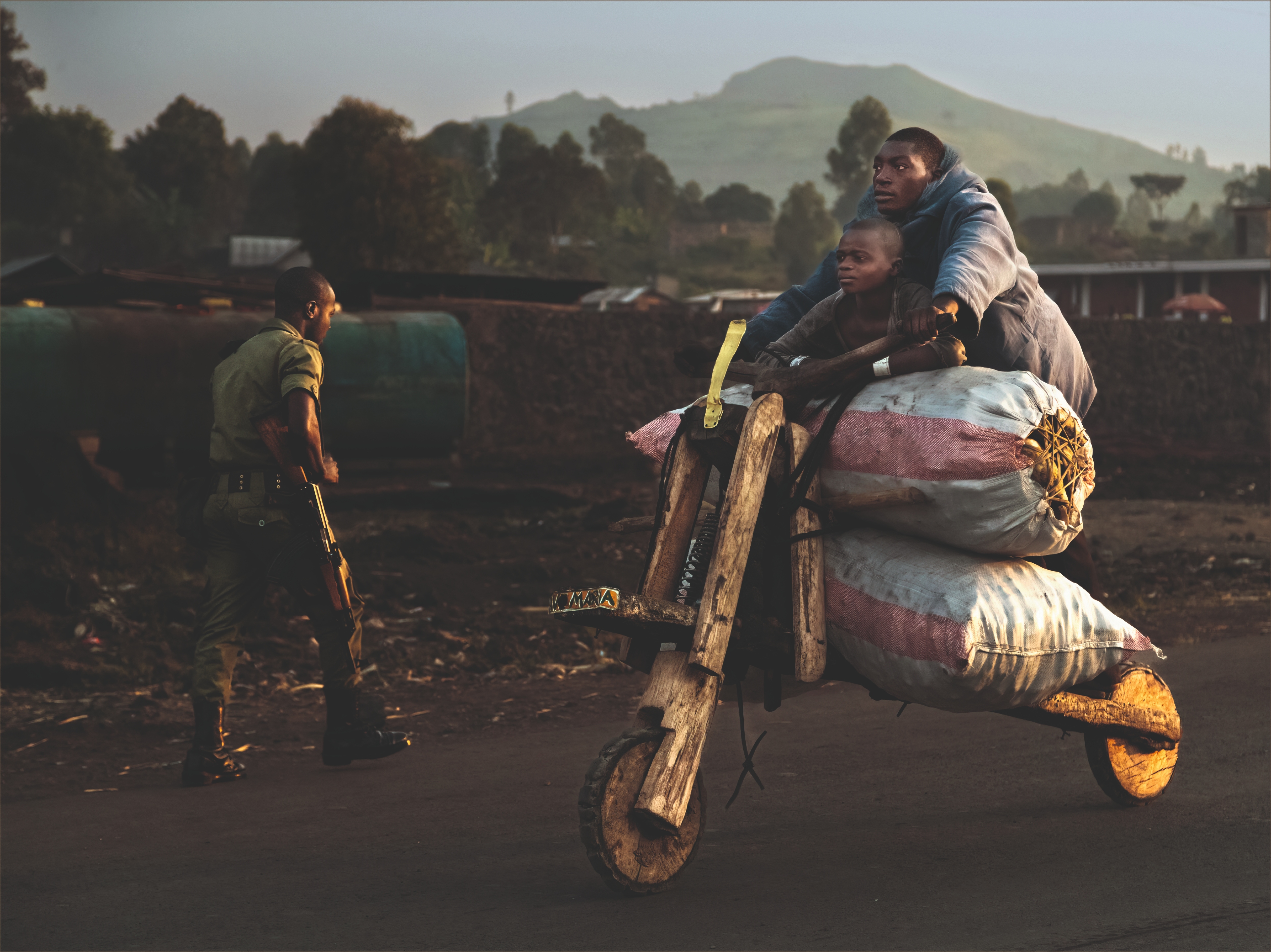 1st Place: Hesté de Beer
Please tell us a little about yourself.
I own a transport/logistics company – primarily fresh produce, but my passion in life is nature. As a photographer, I aim to capture the last unspoiled places and wild animals on our planet – many endangered, others critically endangered.
Can you give us some background info on your image?
The Congo basin is one of the most important wilderness areas left on earth. With a human population explosion, there is an alarming loss of this forest. The result is that lots of special animals became endangered, like the Bonobos, Okapi, Grauri gorillas and now also the forest elephants, with only five populations left in the DRC. In Eastern Congo alone, five rebel groups control huge land areas, including game reserves like Kahuzi Biega. The Congo basin is on the brink of an unprecedented environmental emergency, and to visit Eastern DRC, you need a window of relative peace. This is probably the most violent area in Africa.
I took this photo of children speeding down a hill on their typically self-made wooden scooter ("Chududu"), passing a DRC soldier, when we stopped next to the road on our way back from taking photos of gorillas at Kahuze Biega. It was only afterwards that I realised I captured the soldier in the background.
To me, this photo illustrates the situation in Eastern DRC very vividly, capturing the essence and mood of life – despite the violence, the kids are transporting their charcoal happily on a typically self-made wooden scooter ("Chududu") while the soldier reminds you of the real situation.
How does it feel being the 2022/2023 Getaway Photographic Competition winner?
Lucky, and very happy! When I came third in 2019, I thought, WOW!! Then I came second last year, and now I am thrilled! I feel like MS SA Photography!
What camera do you shoot with?
This shot was taken with my old Canon EOS – 1D X Mark II. But I fell in love with my mirrorless Canon EOS R5, and now I have a Canon EOS R7 too! Thanx to ORMS and GETAWAY!!!
What are some of your favourite lenses to shoot with?
I love my old Canon EF500mm f/4 IS USM fixed lens, but for the last two years, I have been travelling with my Canon 100-400 because it is easier and lighter, but I miss the extra 100 mm. I was planning to upgrade to the new Canon RF 100-500mm, and now I am so lucky to get this as a prize!
Thank you, ORMS!!!
Where can people check out your work?
Up till now, I did not really make my work public, except for making it available to Getaway, Africa Geographics and the German GONG magazine.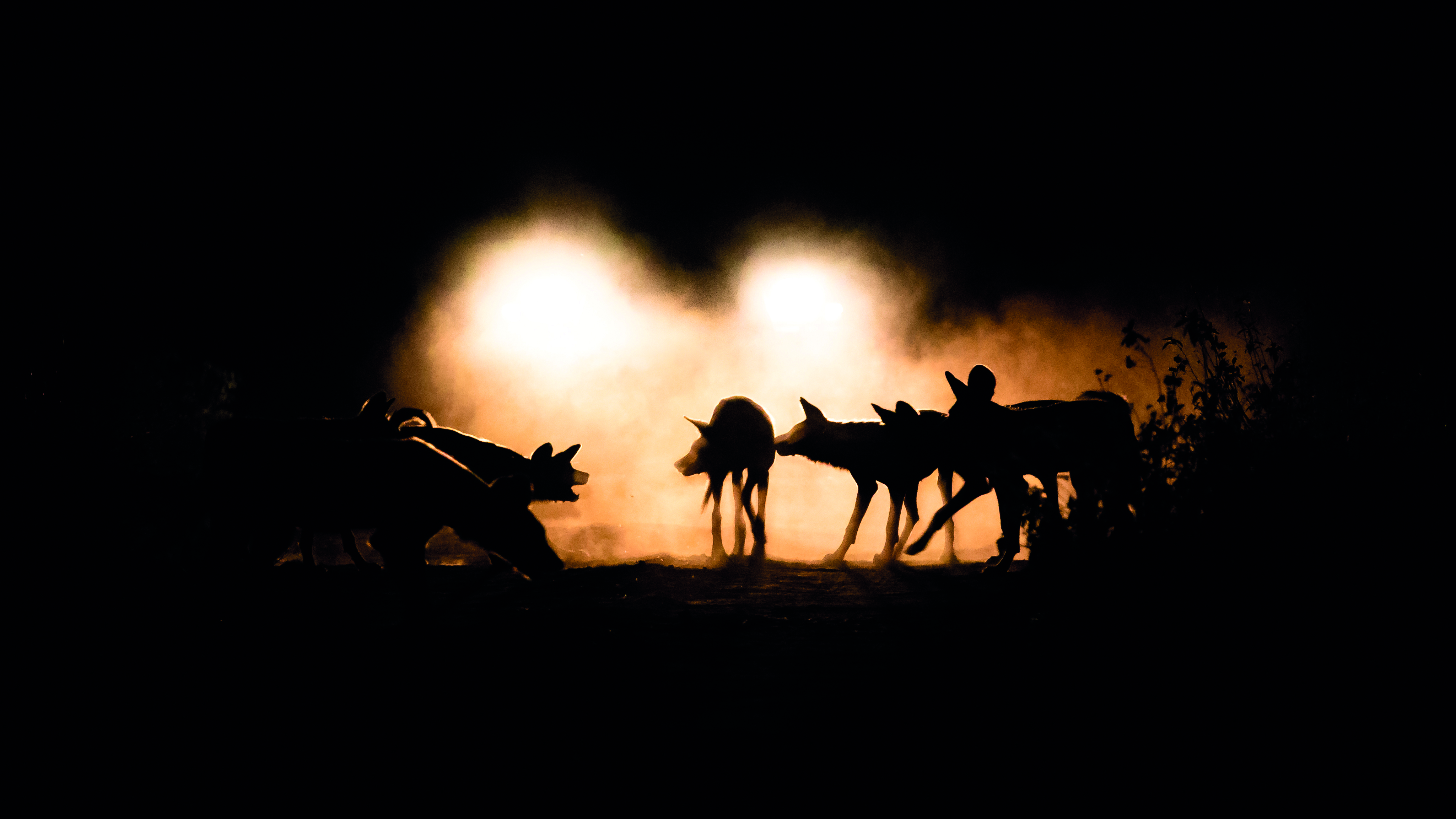 2nd Place: Jurgens Potgieter
Please tell us a little about yourself.
Being a dedicated wildlife enthusiast, I embraced the opportunity to move to Hoedspruit Wildlife Estate six years ago. Since then, my photography skills have improved by leaps and bounds, mainly due to the abundance of wildlife that offers many photo opportunities and great advice from other local wildlife photographers. Photography taught me to notice the beauty in the ordinary and appreciate those moments when the stars align, and you can capture a special moment in time.
Can you give us some background info on your image?
Imagine my joy finding these wild dogs relaxed on the road, with the added bonus of another vehicle stationary on the opposite side, providing the lighting for this unique photo opportunity. What a privilege to capture these playful moments between pack members, kicking up dust and enjoying each other's company unhindered by our presence and unaware of our excitement.
Living on a wildlife estate bordering the Greater Kruger, we have learned to keep our camera equipment on hand as you never know what you may see around the next corner.
Although the estate is too small to permanently sustain a pack of wild dogs, I think they also enjoyed the peace and quiet. I'm hoping they will visit again soon! Hoedspruit Wildlife Estate, Limpopo, South Africa
Canon R6, RF 100-500mm lens.
Camera settings: 1/125sec at f /7.1, ISO12800.
How does it feel being the second-place winner of the 2022/2023 Getaway Photographic Competition?
I was delighted to be recognised in such a reputable competition. Being a big Canon fan already, the camera body and lens are great additions, adding diversity and allowing creativity to thrive. A big thank you to ORMS for sponsoring this amazing prize and to Getaway Magazine for the great competition.
What camera do you shoot with?
The Canon EOS R6.
What are some of your favourite lenses to shoot with?
The Canon RF 100-500mm f/4.5-7.1L IS USM Lens I definitely use most often.
I also enjoy the Canon RF 100mm f/2.8L Macro IS USM Lens.
Where can people check out your work?
Instagram: https://www.instagram.com/twigatravelafrica
Facebook: https://www.facebook.com/twigatravelafrica
Living Canvas: https://livingcanvas.co.za/artist/jurgens-potgieter

3rd Place: Danielle Conry
Please tell us a little about yourself.
I am a South African marine mammal biologist currently working in British Columbia, Canada as a photo ID data specialist for Bay Cetology, where I am responsible for helping with the photo identification and management of Bigg's killer whale data. My work with marine mammals has taken me to some incredible places, such as South Africa's remote Marion Island in the subantarctic, where I spent the year collecting data on killer whales, elephant seals and fur seals for the Marion Island Marine Mammal Programme as part of the 78th Overwintering team to the island.
Can you give us some background info on your image?
I had the amazing opportunity to participate in the M78 Overwintering Expedition to Marion Island as a marine mammal biologist for the University of Pretoria's Marion Island Marine Mammal Programme. Marion Island marine mammal biologists, or sealers, as we are known on the island, are required to perform routine censuses of the Island's southern elephant seal population. This means that we get to spend a lot of time walking the Island's coastline and beaches as we look for elephant seals and check them for uniquely numbered tags.
On this particular day, I was censusing the beaches just north of our base station. It was January, and the end of our time on this amazing island was fast approaching. I felt compelled to capture as much of the island in photographs and videos as I could. However, with many elephant seals to find and work with, as well as vast distances to cover over rough terrain, one doesn't always have the amount of time one would like to capture amazing images. And this is even more true when you are trying to finish the work before a Subantarctic storm sets in.
I nearly always censused with my long lens on my camera. Opportunistic sightings of killer whales could happen at any time and were often tantalisingly fleeting, so one had to be ready in an instant to capture the valuable photo-identification data. This made quick landscape photography difficult, but luckily I could use my cellphone as a substitute as it was easy to bring along and whip out for quick photos. As I walked up to the sandy beach at Ship's Cove and saw all the King penguins against the beautiful setting of this subantarctic beach, I felt that this was one of the images I wanted to keep with me forever. I used the panoramic setting on my phone to capture the whole scene.
What camera do you shoot with?
Usually, a Canon EOS 750D. Although for this particular photo, I used my Samsung Galaxy S21
What are some of your favourite lenses to shoot with?
Telephoto zoom lenses with a range of at least 400mm. 100 to 400mm is nice and versatile.
Where can people check out your work?
You can follow me on Instagram at @danielleconry and @m78killerwhaler or through the Facebook page Wild Ocean Wanderers.