Canon has announced the PowerShot N, a compact everyday companion camera offering a 12 megapixel sensor and 8x zoom.
With the Consumer Electronics Show officially opening later on today in Las Vegas, plenty of manufacturers have been pre-announcing selected products ahead of the trade show, including new cameras.
One of the most interesting cameras announced yet, is the Canon PowerShot N. The extremely compact PowerShot N was designed to combine the pocket-friendly convenience of a cameraphone with the quality and resolution of traditional PowerShot cameras.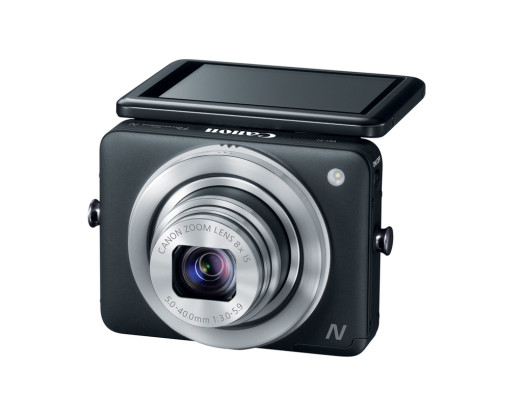 Specifications
Featuring an 8x zoom lens, starting at an equivalent of 28mm wide, and a 12.1 megapixel 1/2.3″ sensor, which is physically larger than the sensor found in most smartphones), the PowerShot N's specifications seem fairly standard until you consider the size of it – this camera is seriously compact. Around the back, you'll also find a 2.8″ touch screen which doubles as the shutter release. Mounted on a hinge that can flip up 90º, the display can be used in a similar fashion to the waist-level viewfinders of medium format film SLRs – which the camera's centrally mounted lens and looks vaguely reminds us of.
On the software side, Canon will be releasing companion apps for iOS and Android, allowing you to view and share your PowerShot N photographs wirelessly at the touch of a button.
We haven't received local pricing and availability information from Canon SA yet, but we'll update this post with more details once we have them. In the meantime, take a look at the product shots below, or read DPReview and The Verge's hands-on impressions.
Product Shots
Press Release
London, UK, 7 January 2013– Canon today unveils the PowerShot N- a totally new type of camera that offers a different approach to capturing creative, spontaneous photos and sharing them instantly with social networks. The unconventional square design, innovative zoom and shoot operation lens rings and tilting touch screen encourage people to capture their world from a fresh angle, whilst the new Creative Shot mode automatically generates a selection of unexpected creative treatments with every shot taken. The perfect smartphone companion, the PowerShot N has been designed to simplify image sharing with intuitive Wi-Fi connectivity allowing a new generation of high-quality, artistic images and Full HD videos to be shared in near real-time1.
Inject every shot with artistic flair
Thanks to the new Creative Shot mode, anyone can impress their friends and followers with unique, creative images that offer a different perspective on a typical scene or subject. When an image is captured in Creative Shot mode, the PowerShot N intelligently analyses the scene and determines which of a host of creative elements could enhance the scene or offer a different creative angle. Multiple variables including composition, exposure, point of focus, white balance, gradation and contrast are considered before five alternative versions of the original shot are automatically generated, which can then be shared at the touch of a button.
Alternatively, a creative edge can be added to a single shot with Canon's creative modes, including Miniature Effect, Soft Focus, Toy Camera Effect and Monochrome. Users can also add drama to a movie clip with Super Slow Motion Movie mode.
Combining creative flexibility with point-and-shoot ease of use, the PowerShot N features new Hybrid Auto mode which records the four seconds before every shot in 720p resolution, before using Canon's acclaimed Smart Auto technology to determine the best settings to capture the perfect shot. At the end of each day, the four-second clips are merged into one to tell the "behind-the-scenes" story of the day's images – perfect for adding new context to an online album.
Shoot and share in an instant
Making it the ultimate mobile companion, the PowerShot N features integrated Wi-Fi and one-touch connectivity to smartphones or tablets, thanks to the Mobile Device Connect Button. Users can upload images or movies to social networks such as Facebook ® and YouTube™ just moments after they've been captured, no matter where they may be. Once home, the best shots can be printed wirelessly or transferred to a PC thanks to the swift, reliable connection. The GPS via mobile feature, using the free Canon smartphone app, can also add location information from a GPS-enabled smartphone or tablet to an image, allowing users to share the exact location of their fun with friends.
Revolutionary design, 'Any Way Up' operation
The unusual, eye-catching design of the PowerShot N sets this model apart from every other – just like the images it captures. The compact, symmetrical design, tilting touch screen and an innovative system of lens rings – the twist lens ring can be turned in either direction to operate the zoom function, while a second ring is used as the shutter release – allow the camera to be used any way up, even upside-down, unleashing the ability to view the world from a completely different perspective.
The advanced capacitive 7.1 cm (2.8″) touch screen also allows users to control essential functions, such as focus or the shutter, with a simple touch, and review their images with familiar, intuitive gestures. Available in white or black, the square, metal body is dominated by a 28mm, 8x optical zoom lens, making it easy to shoot groups and landscapes. Thanks to Canon's advanced ZoomPlus technology, which provides detailed, full-resolution shooting with up to 16x zoom, users can also get even closer to the action or frame a subject tightly for compositions with impact.
Measuring just 78.6 x 60.2 x 29.3 mm when the screen and lens are closed, the PowerShot N's extremely compact dimensions allow it to be slipped into any pocket and carried anywhere, so scenes, subjects and situations that might usually be missed can now be immortalised in the superb quality offered by Canon's advanced compact imaging technology. USB charging also provides added convenience, allowing the camera to be charged quickly and easily on the move.
Canon signature image quality
Despite its compact size, the PowerShot N inherits much of Canon's latest imaging technology to deliver superior, Canon-quality images and movies. Combining a high-sensitivity 12.1 Megapixel CMOS sensor and an advanced DIGIC 5 image processor, the HS System featured in this camera supports a maximum ISO of 6400 to produce sharp and clear images in challenging low-light conditions.
The powerful 8x optical zoom lens is supported by Intelligent IS, which automatically applies the most appropriate image stabilisation for smooth video and crisp stills. Complementing the artistic still images, Full HD video (1080p) can also be recorded.
PowerShot N key features:
Creative Shot
Unique design
8x zoom, 28mm lens; Intelligent IS
HS System: 12.1 MP CMOS sensor, DIGIC 5
Wi-Fi; GPS via mobile
Mobile Device Connect Button
Any Way Up operation; Tilt-up touchscreen
Full HD video capture
Hybrid Auto; Smart Auto (58 scenes)