Food photography with a difference! A Mad Men-styled shoot featuring that great vintage 60s lighting and colour, by Russell Smith.
Article and photography by Russell Smith.
This shoot was born out of love bordering on obsession based on the brilliant and beautifully styled Mad Men series.
It was first conceived a little over a year ago, with numerous meetings and discussions amongst Nikki Werner, Kate Boswell and myself. The idea was to shoot a food story based on many of the dishes and drinks that appear and are made reference to in the show.
The teamwork was highly impressive if I don't say so myself and came together on the day, actually days, with wonderfully satisfying results. The detail was meticulous down to the last white duck egg and cigarette brand. The locations we agreed upon were the grill room at the Nelly, the original Hussar Grill in Rondebosch and a classic 60s home in Constantia. Our two models, Clarisa and JC, were perfect for the part, showing the utmost patience while I was fiddling with lights and Nikki frilled the Ceaser salad.
My challenge as the photographer was to shoot the scenes as close to how they lit images in the late 50s early 60s. I would never shoot food this way today but in keeping with the authentic stage that was set, it was crucial to hard light the food, spot light the faces and create shadows which would be frowned upon in todays standards.
The retouching was done by Still, and think they did a fine job in recreating the 'techni-colour' of that period.
In my opinion, this shoot worked out well for two reasons. I mentioned in a previous post, the power of a good collaboration. This was one of those shoots were everybody brought their A-game and outperformed themselves. And secondly, we were motivated by a shared passion for the Mad Men series and the desire to recreate it through a stills story rather than a client brief.
As it happened we did manage to sell it on but only after it was shot.
Credits
Photographer: Russell Smith
Concept and Food: Nikki Werner
Decor and fashion: Kate Boswell
Make-up: Sarah Hoberman
Hair: Marite Crous
Models: Clarisa Nel and JC Smuts
Retouching: Still retouching
Russell also recently started offering baby photography sessions, using his amazing experience with both natural and studio lights to shoot great portraits of babies and toddlers.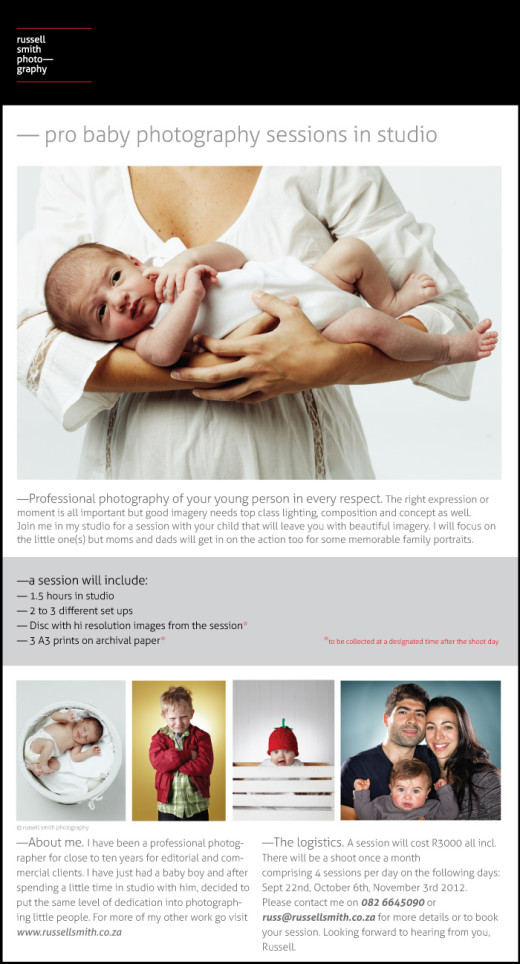 Post originally appeared on Russell's blog. Russell is a prominent food and portraiture photographer based in Cape Town, but also enjoys to document his travels.