Meet visual poet Haneem Christian, one of our incredible mentors for Orms Circle, our recently-launched mentorship programme hosted at FORM…
Feature Image: Haneem featured on the cover of Bubblegum Club, photographed by Imraan Christian.
Haneem Christian refers to herself as a visual poet, each of her pieces speaking to different truths far beyond the image, and existing in a moment where they can be free without shame. But it was only after discovering visual art that Haneem began to develop her own visual language through which to communicate and explore herself, both her pain and her power.
"I felt as though language was filled with binary and I always found myself existing between and beyond binary expression. Curating a visual story started to feel the same as writing poetry. Just like writing poetry I found myself creating worlds through my lens the way a poet creates worlds through their pen. Finally, I was free to express myself."
Haneem has shot for many campaigns including G-Star Raw, Converse and Adidas AREA3 as well as having shot covers for South African publications 'The Plug' and features for 'The Lake' as well as been featured on the cover of 'Bubblegumclub' herself. Many things led Haneem to where she is currently in her life and career. Having an extremely creative childhood filled with playing, singing, drawing and constantly creating alongside brother, Imraan Christian, formed the foundation of manifesting their creativity but it was after hearing Rochelle Nembhard and Lina Viktor speak at 'Creative Nestlings', that Haneem began her journey of self-discovery and artistic expression, saying "I saw myself in my mind's eye finding freedom through art and that was a really beautiful moment".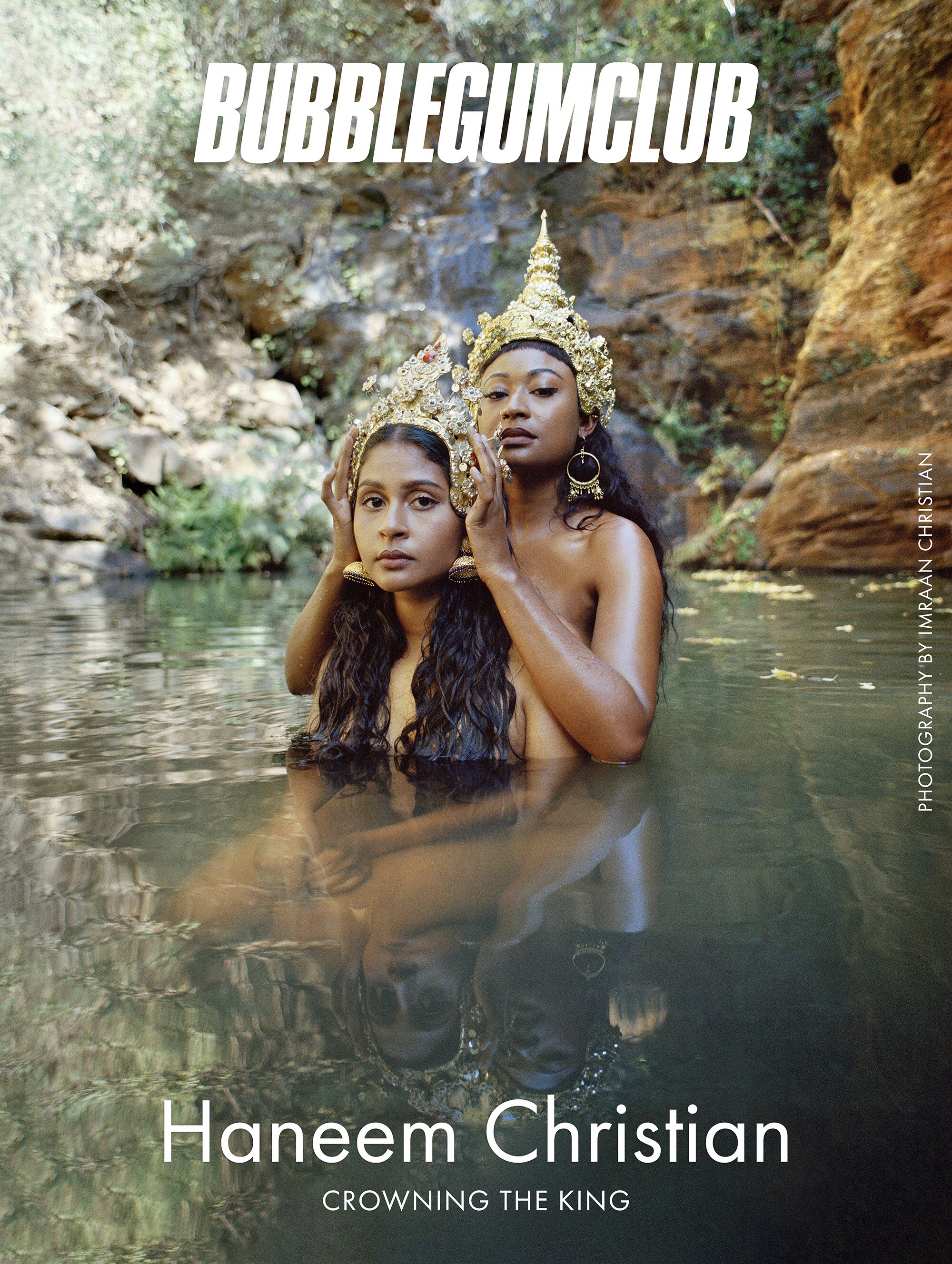 As a young, coloured, queer femme person, Haneem was always intrigued by the concept of freedom, something that existed purely as an idea and not a lived reality for not only herself but for the wider community. "During Fees Must Fall our experiences and truths were being twisted and morphed in favour of the aggressor leaving our spirits hopeless and battered. In acknowledging all of this, I had realised that now is the most important time for us to be documenting our truths before they're erased out of history just like that of our ancestors. I was tired – tired of the skewed story-telling. Tired of the erasure of queer, trans and nonbinary people. Tired of fighting to be seen. It was important for me to transmute this feeling of powerlessness into determination. I was determined to find a way to express my truths beyond violence, language or binaries. I was/am determined to not only archive but celebrate the brown, queer, trans and nonbinary folk who are leading the current shift of consciousness. I think I enjoy visual art because it is something that cannot be policed. It is something to cherish and call my own in a world where everything is false".
We invited Haneem to be a part of Orms Circle because the intention that shines through her work aligns perfectly with those of Orms Circle. Haneem believes Orms Circle is special in that it addresses a very sad but very real reality that every discipline has been shaped to centre the cisgender heterosexual man. This has left women, femmes, trans and nonbinary people in the shadows even though they are the producers of much of the culture and knowledge we consume today. Haneem states, "I think Orms Circle is one of the first initiatives that has consciously challenged this systemic boundary by connecting people of different experience and creating a community where knowledge can be shared and received without being policed. I think Orms Circle is equally important for the mentors as it is for the mentee. I believe there is so much to learn from teaching and that we are way stronger as a collective. I think this is so necessary for those who have been underrepresented because they can finally attain knowledge on not only how to protect themselves in this industry by also how to positively contribute too."
Transcending different ideas of self while evolving alongside the selected mentee, is Haneem's aim for Orms Circle; "as lightworkers, we often feel alone in this twisted world. The world was designed so that we would feel this way so that we would abandon our light. I aim to remember and bring remembrance to the importance of a community and a collective identity. I aim for us to collectively transcend this feeling of loneliness and transmute into oneness and belonging. I think the feeling of being alone can be very discouraging but the collective energy and identity remind the self that it is part of something greater and that there is a greater purpose. I hope the mentee can find strength in the reflection of themselves that they see in us (the mentors). I hope they see that they stand alongside us in the pursuit of our greater purpose. I hope this project allows them to transcend the idea of hierarchy as the one who teaches is also the one who learns and vice versa".
One thing that Haneem wishes she knew earlier in her creative journey and believes she can spread enlightenment on is how taxing being a lightworker within this industry is – spiritually, physically and emotionally, saying "I think this is about remembering the duality that exists in everything in life. Visual art has freed me in the exploration of my imagination, however, the journey has not been easy in any way. It is about digging into the depths of my pain and transmuting it into light through my lens to communicate a moment of resilience or freedom to the viewer- which I think is quite beautiful because photography is quite literally capturing light. Remember: where there is light, there is dark. I think something I can offer to someone finding their creative voice is the ability to mirror their greatness back at them and remind them of that which makes them special. It is important to highlight that throughout all of their work because that's where developing your style and your voice begins. I think it is important to know yourself in this industry- without that you have nothing".
On her hopes for the selected artist, Haneem is looking for someone who is ruthlessly in pursuit of their destiny, hoping their resilience will withstand the test of time and hopes they're unapologetically themselves and refuse to compromise that.
Are you the artist we're looking to guide into and nourish within the art industry? Apply to be a part of Orms Circle here.