See how Cape Town-based photographer, blogger and all round creative, Emma-Jane Harbour gave her bathroom a makeover with our custom wallpaper solutions on the Orms Maker Series this October.
If you follow the Orms Instagram account you'll know that we've started a little mission called the Orms Maker Series, basically what we do is collaborate with local photographers, designers, and creatives to showcase a variety of inspirational projects. This October, we connected with Cape Town-based Photographer, blogger and all round creative, Emma-Jane Harbour. Emma has had a busy month with Orms, she's taken over our Instagram account, designed a postcard booklet and renovated her bathroom with our custom wallpaper solutions, let's take a look!
Wallpaper Project with Orms
"This was such a fun project! If you rent in Cape Town you'll most likely be stuck with a pretty ugly bathroom (with a washing machine stuck there forever). They're old, and it just seems like there's not too much to be done to improve them without spending too much money.
We've been scheming and planning ways to make it better and when I found out about the self-adhesive wallpaper that Orms offers we decided that this might be a cool solution. So without too much time I found a bold, lovely pattern on Creative Market for $8, measured up the wall and sent my design through to Orms!
This is the before and after!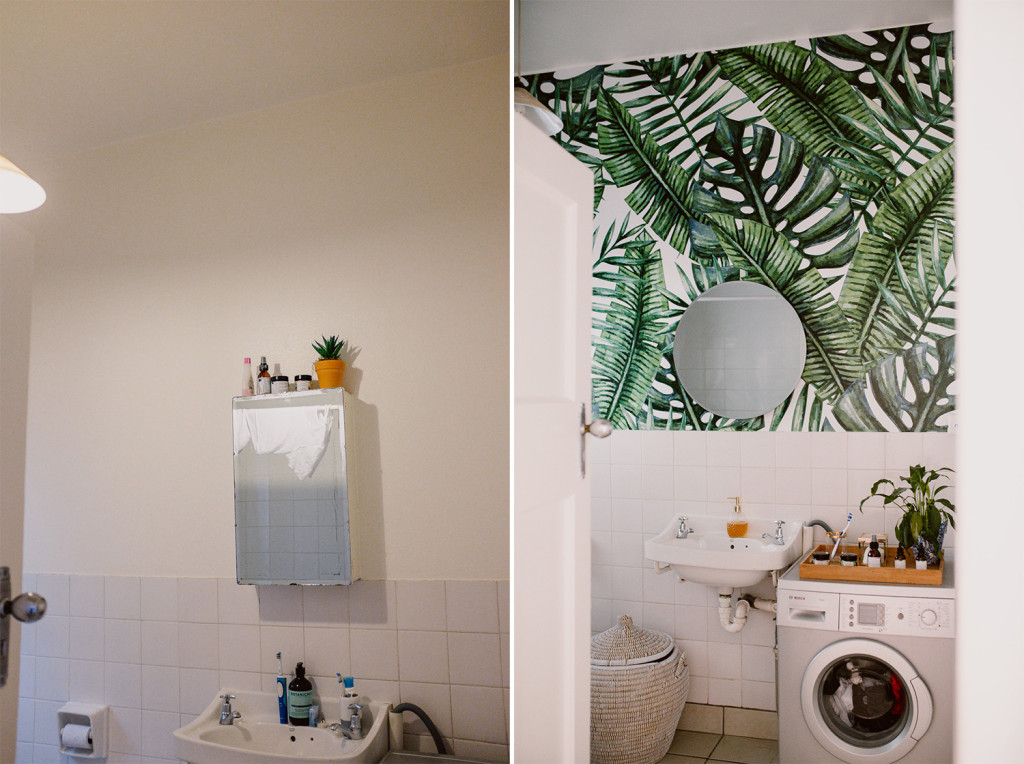 Instructions:
So first things first, we took off that awful bathroom cabinet.
Next, we had to smooth out the walls with Polyfilla, a little sanding and primer to get the wall surface nice and smooth.
After the wall was fully prepped, we laid out the wallpaper in our lounge and measured up again to trim it to fit perfectly.
Starting on the right side at the bottom we slowly peeled off the sticker wrapper (you'll need a second pair of hands for this).
We went nice and slow, ensuring we smoothed out any air bubbles (rub it upwards) until we finished all the way to the top!
Side bar: You might have to stop for arm breaks and to calm your beating heart. It's not terribly difficult, but it's intense because you want to get it just right
The great thing about this is that it's basically a huge vinyl sticker, so you can unstick a bit if you've stuck it wrong (and it will be easy to remove later).
Moving onto the second side! This part is really important because now you want to line up the design perfectly so it looks seamless.
Again, just go slowly and evenly and you'll get it right.
Find out more about the Custom Wallpaper Printing at Orms. You can keep up with more from Emma-Jane on her Instagram or by visiting her website, emmajanenation.com.
If you are not familiar with the Orms Maker Series? Our mission is simple – to spread inspiration. No one knows for sure where inspiration comes from. All we can be sure of is that it exists. Some of us chase it; others have enough of it for all of us combined. It's just one of those things. You know it when it hits you, and when it does, you have to act. You have to bake, paint, capture – you have to create.
So our big idea with the Orms Maker Series, to inspire creativity through beautiful photos of the creative process. Over the coming months, we will be collaborating with local photographers, designers and creatives to showcase a variety of inspirational projects. Stay tuned, we've got so much more coming your way!