South African visual activist and photographer Zanele Muholi has won an Index on Censorship – Freedom of Expression award.
South African visual activist and photographer Zanele Muholi has been honoured with the international Freedom of Expression prize at the recent Index on Censorship awards in London.
Orms would like to congratulate Zanele on this incredible and well deserved achievement. Zanele's work revolves around the black lesbian community in South Africa, and through her portraits she has brought awareness to the community's struggle with abuse and corrective rape.
For more information about Zanele's award, please read the press release below.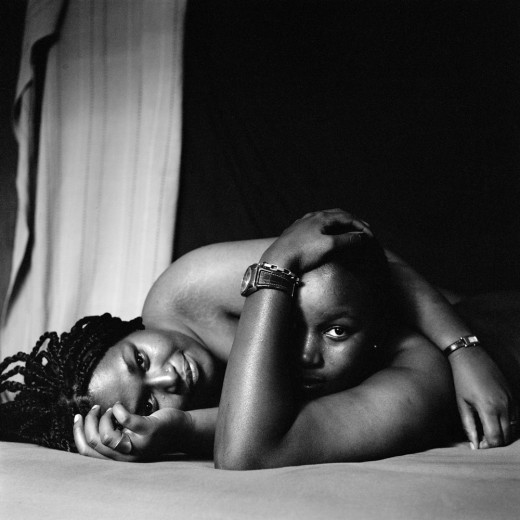 Apinda and Ayanda. Photograph: Zanele Muholi/Courtesy of Stevenson Gallery
Press Release
25 March 2013
ZANELE MUHOLI WINS INTERNATIONAL FREEDOM OF EXPRESSION AWARD
Zanele Muholi was honoured at the Index on Censorship Freedom of Expression awards in London on 21 March.
Muholi won the Index Arts award, for which she had been nominated alongside Russian punk group Pussy Riot, Saudi Arabian filmmaker Haifaa al Mansour, and Indian cartoonist Aseem Trivedi.
The Index Awards are, according to the organizers, 'an extraordinary celebration of the courageous and determined individuals around the world who have stood up for free expression, often at great personal risk'.
Muholi received her award from Index's Chair, writer and broadcaster Jonathan Dimbleby. Dedicating the award to two friends who were victims of hate crimes and later succumbed to HIV complications, Muholi said: 'To all the activists, gender activists, visual activists, queer artists; writers, poets, performers, art activists, organic intellectuals who use all art forms of expressions in South Africa. The war is not over till we reach an end to "curative rapes" and brutal killing of black lesbians, gays and transpersons in South Africa.'
According to The Guardian, CEO Kirsty Hughes said: "Zanele has shown tremendous bravery in the face of criticism and harassment for ground-breaking images which include intimate portraits of gay women in South Africa, where homosexuality is still taboo and lesbians are the target of horrific hate crimes. She has won the award both for her courage and the powerful statements made by her work."
 
Born in Umlazi, Durban, in 1972, Muholi describes herself as a 'visual activist', presenting positive imagery of black lesbians and transgendered persons through her work. Her series of black and white portraits, Faces and Phases, was exhibited at Documenta 13 in 2012, as was her documentary, Difficult Love, which has been shown to acclaim at festivals around the world. Works from Muholi's Faces and Phases series are currently on exhibition at Yancey Richardson Gallery in New York, through 6 April.
Via Stevenson.
Photograph shared with permission.